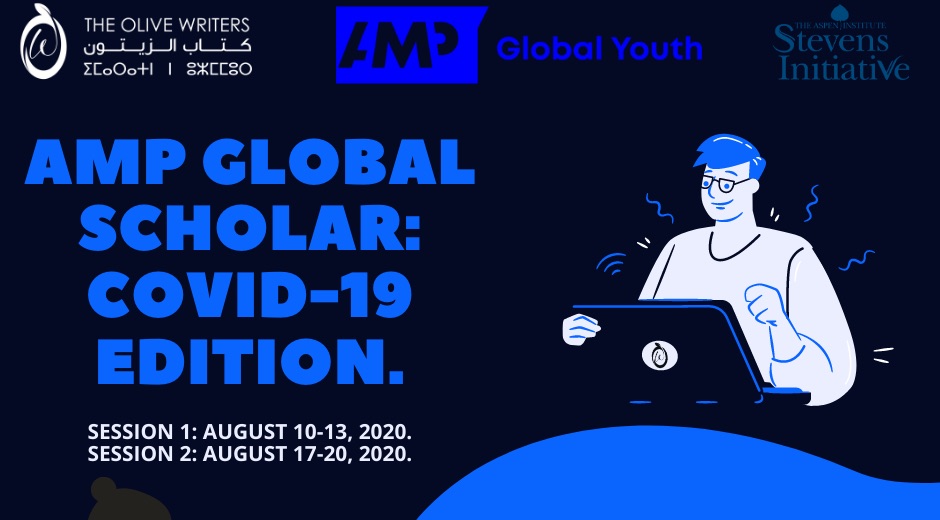 The Olive Writers' AMP Global Scholar Program: COVID-19 Edition (Fully-funded)
Deadline: August 3, 2020
The Olive Writers' AMP Global Scholar Program: COVID-19 Edition is open for applications. The Global Scholar: COVID-19 Edition offers a special opportunity for youth from across the United States and Morocco to come together to explore their shared experiences and connections, understand their differences, and work together to propose bold youth-led interventions and alternatives.
The program is funded by the Stevens Initiative and in partnership with with AMP Global Youth.
Key Program Elements:
Explore the impacts of COVID-19 and its intersections including security, poverty, climate change, refugees, immigration, and human rights through seminars with experts working in government, think tanks, non-profit organizations, academia and more.
Build skills to be a bold and visionary global leader. Our popular Action Lab workshops give you advanced training you won't get anywhere else, focusing on: Systems Thinking and Complex Problem-Solving; Diversity and Inclusion; Strategic Action Planning; Activating your Story, Values and Vision; and Empathy and Dialogue.
Do big things, now. The world can't wait for your brilliance, and neither can we. Throughout the program Scholars apply knowledge and skills to craft and launch a meaningful project around COVID-19. You'll refine valuable skills, build your resume, and make a difference.
Benefits
This is a fully-funded opportunity: Tuition, and internet (for the students presenting the need) are provided free of charge to all accepted participants.
Certificates of completion will be given to the participants at the end of the program.
The participants interested in creative writing will be invited to one of the future Olive Writers Regional Workshops.
Eligibility
Young people aged between 15 and 17 who are curious about their world, and eager to make an impact.
 You must be able to participate in one of the two sessions offered.
Students must come from Morocco or the United States.
Application
Applications can apply to one of the two sessions offered by filling out the application form.
For more information, visit Olive Writers.