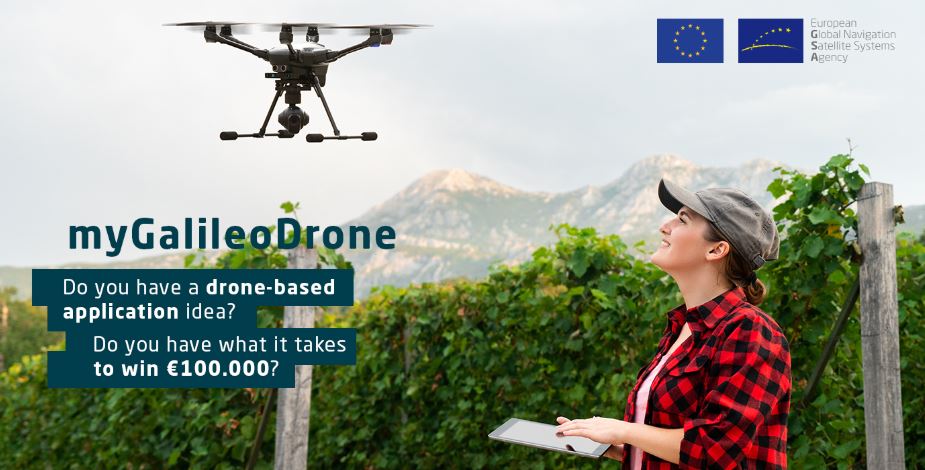 European Global Navigation Satellite Systems Agency MyGalileoDrone Competition 2020 (€230,000 total prize)
Deadline: August 31, 2020
Do you have a drone-based application idea? Do you have what it takes to win €100,000? Apply for the European Global Navigation Satellite Systems Agency MyGalileoDrone Competition 2020. The aim of the contest is to design, develop, test and prepare for commercial launch a drone-based application and/or service able to provide a position and/or time fix by using Galileo-enabled receiver.
The use of Galileo shall be understood in a broad sense, and not limited to the navigation components in the flying platform. The competition is open to integration of Galileo in any of the drone components or other equipment supporting the operations, that is, the flying platform (autopilot or other payload), the ground control station, or any other devices supporting the implementation of the application, such as smartphone, as well as external ones, such as U-Space services.
The Challenge
Each participating team shall propose an application targeting one of the following development areas:
Urban air mobility: Personal transportation services in urban areas, in the longer term
Parcel delivery & eCommerce: Drones supporting package delivery, as support to post services or transport of goods, from warehouses to dedicated landing site, or to recipients (customer's home in urban environment) in the longer term.
Infrastructure, Inspection: Power grid, transport network energy distribution, solar panels inspection, offshore platforms, wind farms, etc.
Leisure: Toys, aero-modelling, self-tracking/filming drones (first person view), drone racing, etc.
Maritime surveillance: Provision of a situational awareness in maritime areas through long-endurance drones.
Agriculture: Precision agriculture, crop/field/soil monitoring, variable rate applications, livestock tracking, insurance, forest monitoring & management, etc.
Surveying: Cadastral surveying, mining, marine surveying, GIS, photogrammetry, etc.
Emergency management: Support to SAR (Search and Rescue) operations, firefighting, other natural disaster monitoring (e.g. floods, forest fires, earthquakes, etc), patrol, security, etc.
Scientific applications: Meteorological monitoring, atmospheric measurements, swarm techniques, general R&D, etc.
Traffic Management: Flight planning, tracking, assistance to deconfliction, separation, surveillance, traffic information, capacity management, interface with ATC and manned aviation.
U-Space services: Applications supporting e-identification, geoawareness, geofencing, operation planning, detect and avoid, incident reporting as well as other supporting future drone operations.
Other applications: Calibration of aviation nav-aids, asset management, advertisement, marketing, entertainment, etc.
Prizes
There are 4 prizes for a total of €230,000 awarded as follow:
1st Prize: €100,000
2nd Prize: €60,000
3rd Prize: €40,000
4th Prize: €30,000
Eligibility
Participation in the contest is open to teams, ideally from one to seven participants, composed by natural persons or legal entities. Each team must appoint a team coordinator to serve as the central contact point and represent the team towards GSA.
Natural persons applicant shall be EU Members States citizen or citizen of Switzerland or Norway.
All applicants must be at least of 18 years of age by the date of registration to the contest.
In the case of legal entity, its central administration or registered office must be located in the EU Member States or in Switzerland or in Norway.
Criteria
The following criteria will be considered for the assessment of the projects along the three steps of the contest:
Innovation (0-5): Is this kind of application or service not yet available on the market? Is the application technologically advanced (e.g. using multi-frequency, innovative algorithms)?
Market potential (0-5): Is this application / service sellable after repackaging this idea into a real service? Is there a potential market demand/customer base for this product? 
Galileo-relevance (0-5): Is the application / service making use of Galileo? Is the increased accuracy offered by Galileo relevant for the application? Is the increased robustness provided by multi-constellation / multi- frequency relevant for the application? 
Technical feasibility and service readiness (0-5): What is the level of progress since the start of the contest? Has the required level of completion for the phase been fully achieved? Is the applications/service ready to be delivered in the market?
Address regional development needs (0-5): Does the solution address needs of regional markets or improve the offer available in regional markets for the services proposed to be provided by the drone-based solution? In case additional authorisation are needed from the relevant national authority, are they identified and is the plan to achieve them credible? 
Application
Register an account.
Start your entry.
Complete the Application form.
Submit your entry to be judged.
For more information, visit MyGalileoDrone Competition.