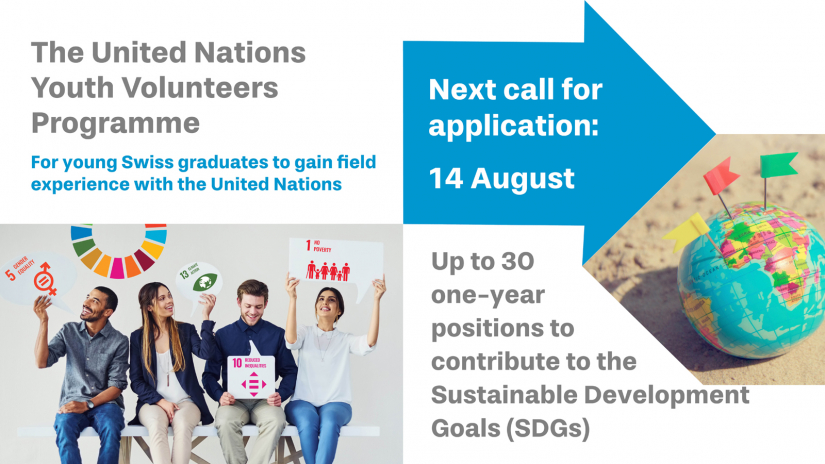 United Nations Youth Volunteers Programme 2020 for Young Swiss Graduates (fully-funded)
Deadline: September 13, 2020
The United Nations Youth Volunteers Programme 2020 for Young Swiss Professionals is open for applications. The UN Youth Volunteer positions (UNYV) are an attractive opportunity to start a career in international cooperation.
Are you Swiss, under 29 years old and hold a Master's degree? Would you like to gain valuable field experience with a UN organisation while contributing to the Sustainable Development Goals (SDGs)? 20 one-year positions with the United Nations are available! Apply now.
Each year, the Swiss Government finances up to 30 United Nations Youth Volunteer (UNYV) positions. UNYV assignments, which last one year, are a unique opportunity to learn, discover the multilateral system and kick-start your career in the area of international cooperation. This programme is reserved for Swiss nationals only, therefore the number of applicants is relatively low.
To ensure one can fully immerse in these assignments, all travel, relocation, life and health insurance costs are covered by the programme and a monthly living allowance is paid.
Types of Assignment
UNYV positions are very diverse, depend on the UN organisations' thematic priorities and are oriented towards the Sustainable Development Goals (SDGs). Some examples of types of positions:
Human rights
Programme analysis and coordination
Gender equality
Monitoring and evaluation
Peacebuilding coordination
Graduates with a background from law to economics, social sciences to international relations are encouraged to apply to the programme.
Benefits
Work with UN organisations in developing countries
Obtain on-the-job training
Increase knowledge and competencies in your work area of interest, while living in dynamic and multifaceted settings
Join the work force of young Swiss professionals in the area of international cooperation
Salary:
You will receive a living allowance which enables you to sustain a modest and secure standard of living at the duty station. The allowances are however, in no way to be understood as a compensation, reward or salary in exchange for your work. UN Youth Volunteers are also entitled to reimbursement for travel to assignment as well as to Bonn, Germany for the briefing session.
Eligibility
Swiss nationality
Master's degree in a relevant field
Ideally 12 months of relevant professional experience (min. 3 months – max. 24 months)
Max. 28 years old at the start of the assignment
Excellent command of English and active knowledge of 2 official Swiss languages
Demonstrated thematic interest in international cooperation, development, human rights, peace promotion or humanitarian affairs
Application
Applications will be accepted in English only. Read the FAQs before you apply.
For more information, visit UN Youth Volunteers.