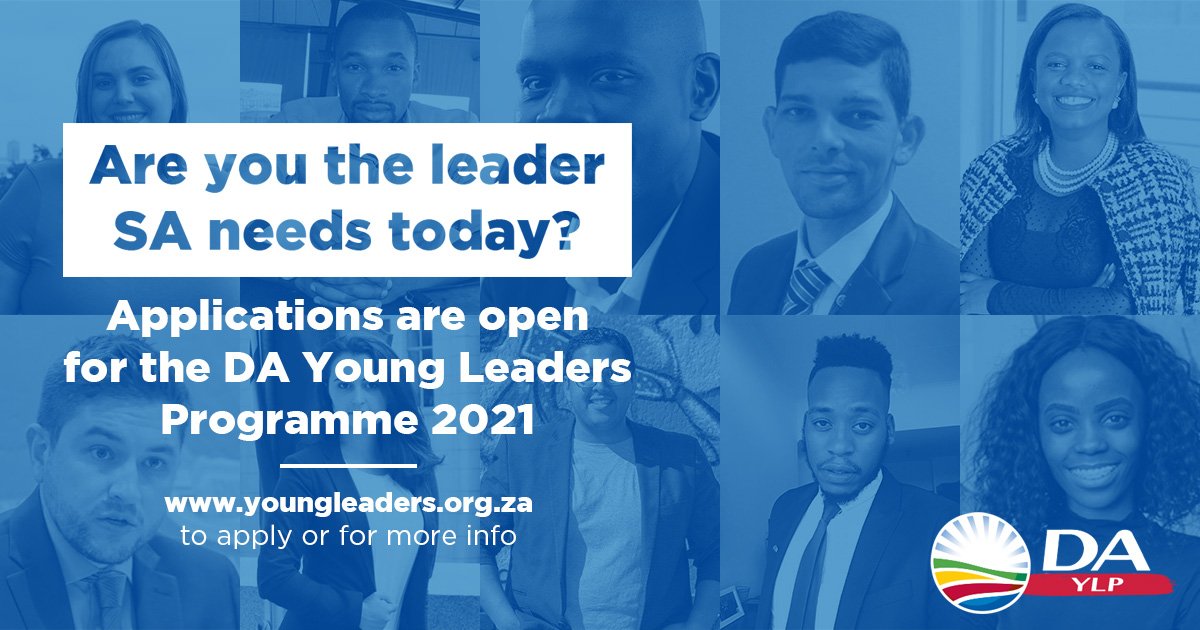 Democratic Alliance Young Leaders Programme Class of 2021 [South Africans only]
Deadline: September 14, 2020
Applications are open for the Democratic Alliance Young Leaders Programme Class of 2021. The Young Leaders Programme is an intensive, year-long, part-time political leadership development course, known around the world as the gold standard in political development. The Programme strives to give passionate, young South African leaders the opportunity to develop themselves to their full potential, irrespective of their background.
Over the course of one year, participants of the programme will be given the chance to broaden their political knowledge, critical thinking and communication skills. Participants will also get to know themselves, and their personal leadership style and development needs a lot better during dedicated sessions on leadership and personal development. In addition, Young Leaders will be required to conceptualise and undertake a leadership project, giving them a unique opportunity to expand their influence, self-awareness and emotional maturity, so that they can become dynamic, resilient leaders who are able to tackle politics on the national stage.
Costs
All costs directly related to the YLP are covered by the DA. International traveling costs are not covered.
Eligibility
Open to South Africans between the ages of 18 and 35 who align themselves with the DA's values of Freedom, Fairness, Opportunity and Diversity.
Participants of the programme are highly motivated individuals, interested in pursuing a career in politics or the public service, with the aim of creating One Nation with One Future.
Participants must either be living in South Africa, or if they are temporarily abroad, be returning to South Africa in time for the start of the programme.
Other qualities may include:
A personal ideological alignment to the DA's vision of One Nation with One Future, rooted in their values of Freedom, Fairness, Opportunity and Diversity;
A high level of interest in, and knowledge about, South African politics and current affairs;
An excellent understanding of the DA's principles and policies;
A demonstrable leadership track record;
Examples and evidence of having taken initiative, stepping outside normal roles to start something new;
The ability to argue and reason well;
Passion, drive and confidence;
An authentic motivation to be actively involved in politics in future;
A high level of self-awareness, maturity and emotional intelligence;
Involvement in the DA.
Application
Applicants will receive an automatic system email confirming they submitted a form online.
Applications are reviewed by the Young Leaders Office and applicants will receive a confirmation email within 2 days, indicating whether their application package is complete or incomplete. If you do not receive this confirmation, please contact the office.
For more information, visit Democratic Alliance.