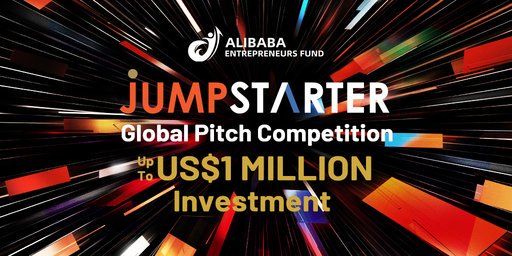 Alibaba Entrepreneurs Fund JUMPSTARTER 2021 Global Pitch Competition (Win up to US$1 million)
Deadline: August 31, 2020
Applications are invited for the Alibaba Entrepreneurs Fund JUMPSTARTER 2021 Global Pitch Competition. JUMPSTARTER is a not-for-profit initiative curated by Alibaba Entrepreneurs Fund that provides a platform for all entrepreneurs and young people to jump start their dreams in Hong Kong. It is also a first-of-its-kind startup event focused exclusively on showcasing quality startups and providing high-impact networking opportunities.
Their goal is to build, empower and boost Hong Kong's startup ecosystem and entrepreneurship by bringing entrepreneurs, corporates, investors and the public together, helping to transform Hong Kong into a leading hub for global innovation and technology.
Benefis
Pitch to win up to US$1 million in investment;
Gain international exposure;
Network with top corporates and investors;
Connect with Alibab Digital Economy;
Mentorship;
Sponsored travel to Kong Kong for final pitch;
Free exhibition opportunities.
Eligibility
JUMPSTARTER 2021 is open to startups from all around the world that fulfil the following requirements:
Operating for less than 5 years;
Raised less than US$20 million in funding to date;
Currently between the Seed and Series C stages of funding;
Desire to make Hong Kong part of their future plans;
Possess an innovative product or service.
Selection Criteria
Innovation and Industry Disruption (20%)

Evidence of innovative advances in product, service, application, adoption etc
Potential to disrupt the relevant industry
Value proposition

Market Potential and Business Model & Sustainability (20%)

Ability of the idea to generate revenue
Competitiveness, barriers to entry, first-mover advantages etc
Unit economics and scalability

Traction and Further Development Plan (20%)

Operation and financial metrics, milestones and achievements since inception
Forecast and product roadmap

Team Background and Strength (15%)

Capabilities and expertise to execute the business plan
Passion, ambition, vision, culture

Hong Kong Nexus (Founder Background + HK / GBA Plan) (15%)

Background of founders
Plans to utilize Hong Kong to expand the business
Evidence of existing or future operation plans in Hong Kong/GBA

Social Impact (10%)

Contribution to general wellbeing of wider society

BONUS POINT: 10% (Max.)

Will be added to your total score if you've taken any initiatives to support your local community to combat COVID-19
Application
Teams are required to submit their pitch deck via the Alibaba Entrepreneurs Fund Service Platform. The pitch deck should consist of the following:
A PowerPoint presentation of up to 15 slides in PDF format, including but not limited to:

Founder Background and Story
Team Profile
Value Proposition and Product/Services Description
Market Size and Target Segment Analysis
Business Model

Pricing, Cost and Unit Economics
Acquisition, Distribution and Supply Chain
Entry Barrier and Competitive Analysis
Scalability, Growth and Risk Factors
Historical Milestone, Operation & Financial Traction and Future Development Plan

Fundraising History and Plan
Hong Kong Nexus

Team Background and Current Operation
Future Plan

Optional: A 2 to 3-min Video Presentation/Corporate Video
For more information, visit Alibaba.