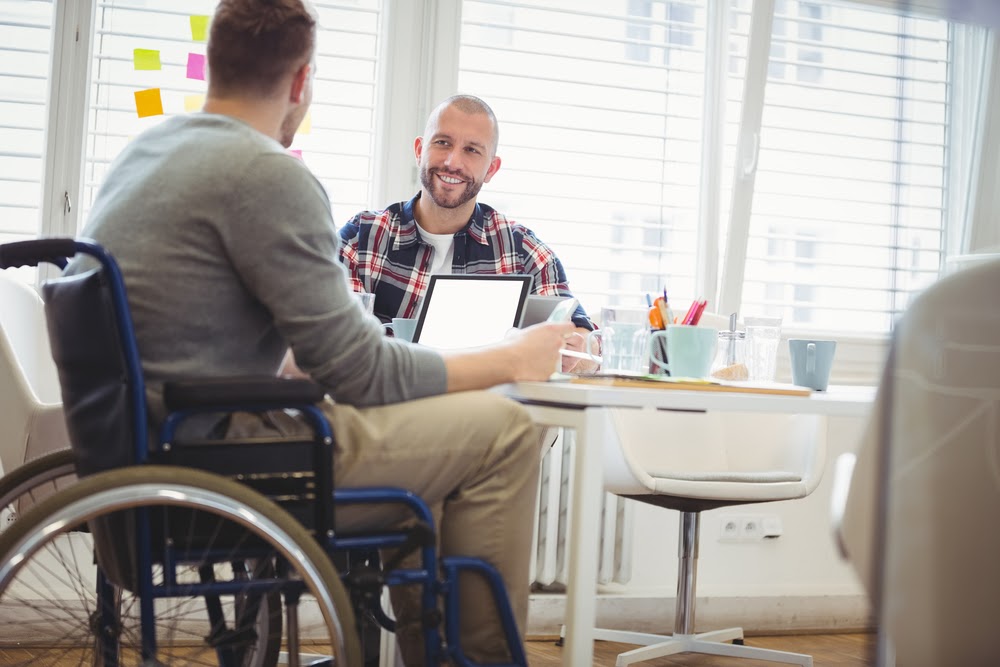 Your Function as a Business Owner to Introduce Accessibility in the Culture at Your Organization
As the leader of your organization, you must believe in making your accessibility efforts sustainable. Your web accessibility solution provider can guide you through the early stages of your projects. Various accessibility solutions can equip your organization with tools that can be efficient at managing your ADA and WCAG 2.1 compliance challenges. They would also help you to make a statement about declaring your commitment to providing an accessible virtual environment. But the accessibility solutions and guidance are just one half of the battle.
Think of the AI-powered web accessibility solutions as the guns you need to fight the battle of compliance. Buying and providing your team with the weapons and ammo won't be enough. Make sure that your teams are motivated to win the war against discrimination towards people with disabilities. That means you must establish proactive and leadership qualities within your team members. You must also develop strategies and practices in your organization that can motivate your teams to promote web accessibility.
Appoint Your Accessibility Leaders
If you want to introduce accessibility in the culture of your organization, you must appoint appropriate leaders in all of your departments. That does not imply that you must create new positions in your departments. Simply create goals that promote activities to achieve accessibility in their team's efforts. These leaders need not be experts in working with accessibility tools.
Everyone in your organization would be accountable for accessibility in one way or another. One of the primary functions of a leader is to make team members aware of their responsibilities towards making the digital presence of your business accessible. They must gather and formulate strategies to train the team members. Here's how you must direct leaders of different departments to establish a culture of accessibility in your organization.
Executives provide support to the implementation of the ADA compliant software solutions. After that, they must formulate business goals that can establish the organization's identity as a supporter of accessibility on the internet.
Your content creators must develop the skills to ensure that the web pages, images, videos, emails, and any other content created by them get optimized for web accessibility. They will be working in close contact with the accessibility service provider to learn the necessary methods to improvise alt text, captions, and such others. They would also need to ensure that any content received from 3rd parties, such as plugins or blog posts are website accessible.
Make sure that the designers work with the compliance software providers to understand how the accessibility interface works. The compliance evaluators should be able to catch the violations in the designing stage to make the process easier. Your web designing team should be able to rectify the violations and make the necessary changes. They must also keep the various designing aspects in mind while developing the website's accessibility interface. The site user interface should be compatible with assistive technologies like screen readers, screen magnifiers, Braille printers, and such others.
The design team must work together with the development team. The development team is responsible for building the site and incorporating the automated accessibility software for testing the various design components. The tests should generate consistent accessibility problems that can be rectified by the developers and designers. The developer team can also have people with varying disabilities test the website for shortcomings. Having people with disabilities working as part of your testing team will also promote the culture of accessibility in your organization.
The legal and compliance leaders should ensure that all the teams are aware of the legal implications of ADA and WCAG concerning website accessibility. They must also be conscious of the legal ramifications in case the websites are not WCAG or ADA compliant. They should have regular training sessions for all the teams to update them about the latest legal requirements for web accessibility.
Human resources must ensure that they hire people with disabilities in the organization for various teams to inculcate a culture of accessibility. They must also ensure that internal communications and training sessions are optimized for accessibility. HR should also include accessibility training as a part of the onboarding process for new employees.
This list does not cover all the departments of every type of organization. But as a business owner and leader, it is your responsibility to ensure that every department in your organization works towards imbibing a culture of accessibility. Each employee must be aware of their contribution towards achieving the accessibility statements made by your organization.
For more articles, visit OD Blog.