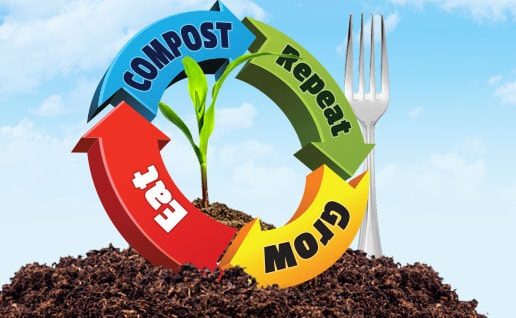 International Compost Awareness Week (ICAW) Poster Contest 2021
Deadline: November 2, 2020
Applications are open for the International Compost Awareness Week (ICAW) Poster Contest 2021. This year's ICAW 2021 theme, Grow, Eat…COMPOST…Repeat, empowers us to recognize and promote the importance of composting and the use of compost in growing healthier food, supporting healthier soils and, ultimately, creating a more just and sustainable world.
The ICAW 2021 theme is based on the circular movement of the organics recycling process flowing from farm to table to farm again. This circular process turns recycled organic materials into compost which creates healthy soils leading to more nutrient dense fruits and vegetables, with that waste going back to being composted and the process starts again. Compost adds carbon back into the soil, promotes erosion control and closes the loop by avoiding the loss of valuable organic resources. From on-farm composting, large-scale commercial composting facilities to community composting and composting in backyards, this amazing resource provides an ecologically responsible option for managing our organic materials.
Prizes
The successful poster winner will receive a $500 prize.
The winning poster will be used to promote International Compost Awareness Week, May 2-8, 2021.
Eligibility
Open to anyone from anywhere in the world.
Applicants should be in the 9th grade (14 years or older);
They should desire to share their artistic creativity to promote this year's theme.
Entries are limited to one submission per artist.
Requirements
Only one entry per person
Size is no more than 12" wide X 18" vertical (this is in inches)
Resolution is 300 dpi in jpg format
Poster contains the theme title, Grow, Eat…COMPOST…Repeat
Poster contains the words International Compost Awareness Week May 2 – 8, 2021
Do not add additional words to your poster. Only the theme and International Compost Awareness Week May 2 – 8, 2021 are allowed. Any changes to those words or additions will automatically eliminate your entry.
If you have a photograph as part of your poster, please confirm that either you took the photo or you have obtained legal rights to use the photo.
Judging Criteria
The competition will be judged on the following criteria (40 points maximum):
Marketability of poster to multiple audiences – 10 points.
Creative and original artwork and idea – 10 points.
Attractiveness in terms of design and neatness of layout – 10 points.
Overall Impact, all graphics are related to the topic and make it easier to understand the poster theme – 10 points.
Application
You must complete the online entry form application and checklist, and submit your poster online. Please include a short paragraph on why you chose to participate in ICAW 2021 and explanation of your poster concept.
For more information, visit ICAW Poster Contest.