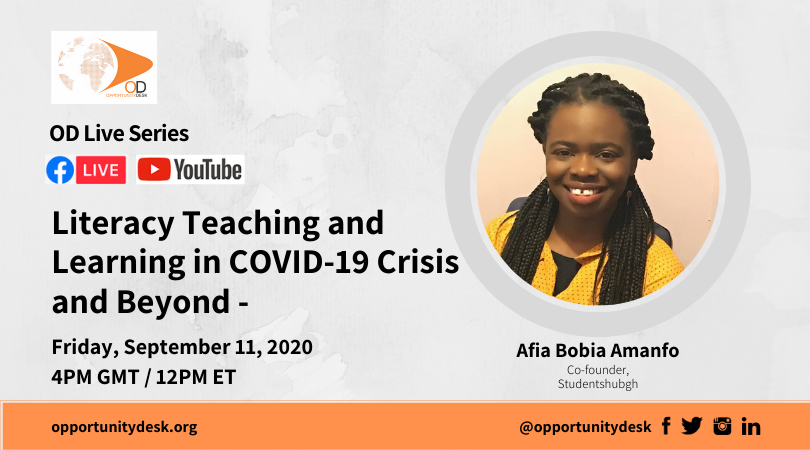 Literacy Teaching and Learning in COVID-19 Crisis and Beyond – OD Live with Afia Bobia Amanfo
You're invited to join OD Live Session on Literacy Teaching and Learning in COVID-19 Crisis and Beyond with Afia Bobia Amanfo – September 11, 2020.
This year's International Literacy Day theme provides an opportunity to discuss how different innovative and effective teaching methods can be used in youth and adult literacy programs especially during and beyond COVID19. The pandemic has affected education and learning activities across the world and there are lesson to be drawn from the initial world wide response to education in COVID19.
In the same spirit, we are hosting a live session with Afia Bobia Amanfo, the Co-founder of Studenthubgh. She will discuss her work, and share insights on how we can shape education during and after COVID19.
Join us in this engaging live session and come prepared with any questions you might have regarding Literacy Teaching and Learning.
The #ODLive series is part of our efforts to empower our users with the right knowledge and tips they need to grow and succeed in their businesses, projects, and applications for global opportunities.
About the Speaker:
AFIA BOBIA AMANFO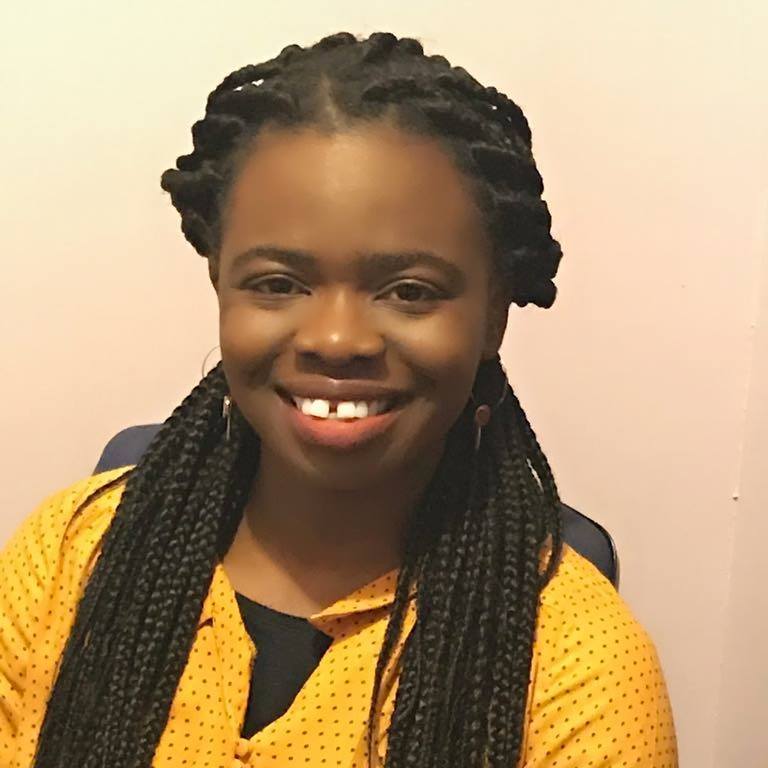 Afia is the co-founder of Studentshubgh, an ed-tech company based in Ghana, and also the Africa Innovation & Business Development Manager for Bridge for Billions, one of the leading startup incubators worldwide.
Afia is a social entrepreneur very passionate about Africa, youth development, and education. With a passion for supporting young people to become successful leaders, Afia co-founded Studentshubgh which has to date offered career & leadership training to over 200 tertiary students from over 24 African countries. In addition, Studentshubgh has grown a youth community of over 15000 in the past 2 years.
Afia also works as the African Business Development Manager for Bridge for Billions where she collaborates with various development agencies and ecosystem builders to develop entrepreneurship programs for African countries.
Event Details
Date: Friday, 11th September 2020
Time: 4:00pm GMT / 12:00pm EST
How to Join the Livestream
No registration required, just click the link below and show up!
Join via Opportunity Desk's Facebook Page or YouTube Channel.
About Opportunity Desk
Established in 2012, Opportunity Desk (OD) is the largest digital media platform that bridges the gap to education by sharing information on relevant learning and growth opportunities for youth around the world. These opportunities help to facilitate young people's efforts in exchanging ideas and preparing themselves for the future.
Follow OD to stay up to date: