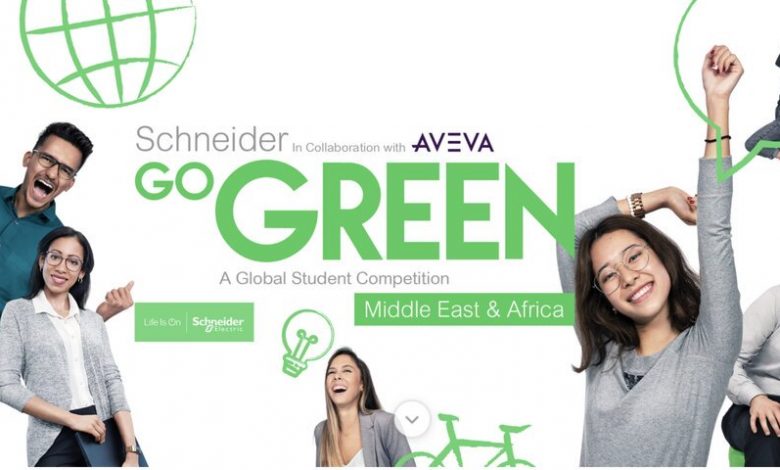 Schneider Go Green 2021 – Global Student Competition for Middle East & Africa
Deadline: February 15, 2021
Submit your bold idea for the Schneider Go Green 2021 – Global Student Competition. Schneider Go Green, together with AVEVA, is looking for game changers around the world who are daring to disrupt and to put their skills to the test and push the boundaries of digital transformation in Energy Management.
At Schneider Electric they believe that energy is a basic human right and they are dedicated to furthering mankind through new technologies. As a major player in Energy Management and Industrial Automation, they see an urgent need for bold ideas that can re-shape a smarter and more sustainable future for both: their industry and their company.
Categories
Access to Energy: Enable universal access to energy in an environmentally sustainable manner.
Homes of the Future: Can homes be smarter, more sustainable and incorporate new technologies?
Plants of the Future: Apply IoT, AI, Machine Learning and more to the industries of the present or future.
Grids of the Future: Imagine the future of energy management and distribution!
De[coding] the Future: Envision future approaches to design, engineering and construction of assets and infrastructure.
Prizes
Global winners will be awarded a trip to one of the following cities: Boston (USA), London (UK), New Delhi (India), Paris (France), or Shanghai (China) – visit SE's offices, network with employees and interact with high level management.
Global Finalists: Pitch your idea in the Global Finals and win the worldwide challenge.
Regional Finalists: Participants will receive mentorship from Schneider Electric experts to polish their proposals and make it to the Grand Finale!
Women in Energy Awards: One all-female team will advance into the Global Finals and compete for the top prize!
All applicants will be Considered for an HR interview and receive content about Schneider Electric's benefits, job opportunities and early career events.
Eligibility
Only university students eighteen (18) years of age and older at the time of submission of the Initial Application are permitted to submit their proposals.
Students worldwide must be registered in a bachelor's (at least the 2nd year) or master's program in business, engineering, Marketing or Innovation to be eligible to compete in the Contest.
The Contest is open exclusively to individual students in teams of two, of which at least one team member is female.
Both team members must study in the same country for the duration of the competition. They are not however required to be from the same university, nor are they required to study the same subject or be in the same year, as long as they are not in their first year of their undergraduate education.
Likewise, the students are not required to be permanent residents or nationals of the country in which they are studying in order to compete. Should an individual student's entry be disqualified, that Entrant's team will no longer be able to participate.
Schneider Electric's permanent employees, customers, their respective affiliates, subsidiaries, and their respective employees, officers, directors, representatives, agents, consultants, contractors and their immediate family members are not eligible to participate. Schneider Electric reserves the right to limit, or restrict upon notice, participation in the Contest to any person who fails to comply with these Rules and Conditions.
Application
Register on the platform, choose a competition category and submit a 10 slide proposal deck in English (PPT or PDF format), addressing the following:
Problem statement
Key points of differentiation
Operational availability
Team profile
For more information, visit Schneider Go Green.