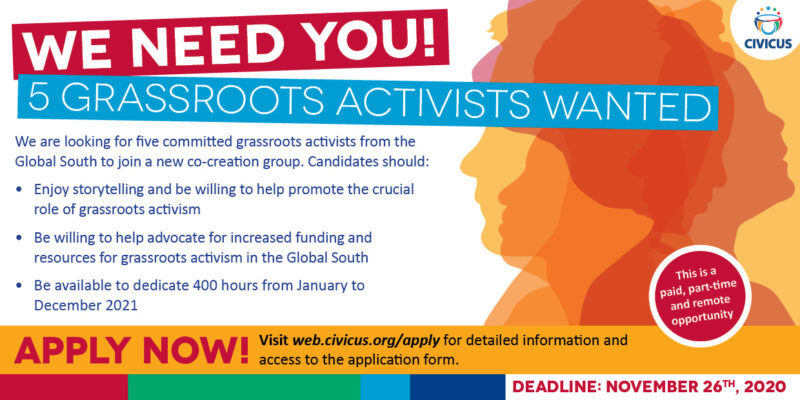 Call for Applications: CIVICUS Co-creation Team of Grassroots Activists
Deadline: November 26, 2020
Are you a passionate and committed grassroots activist who enjoys storytelling and would like to help amplify the voice of grassroots groups and spread the word about their crucial work? Would you like to help promote change among the donor community for more and better funding and resources for grassroots in the Global South? Apply to join the CIVICUS Co-creation Team of Grassroots Activists.
CIVICUS is looking for five grassroots activists from the Global South to start a group that will co-create and implement an influencing strategy and campaign to advocate for improved resourcing practices for grassroots activism. This is a paid, part-time and remote collaboration opportunity.
Eligibility
Applicants should be available to dedicate 400 hours to work on this initiative between January and December 2021. (Approximately one day a week.) 
Available to work at least 200 of the 400 hours between 2:00pm and 5:00pm GMT+2 time zone. Most likely the group conference calls will take place at 3:00pm GMT+2 and must be taken in a quiet place, if possible. 
Access to stable internet connection for video conferences, email and upload content on social media for at least 8 hours per week. 
Working level of English, Spanish or French.
Geographic location (Both a national and resident from the following regions: Latin America and Caribbean, Middle East and North Africa, Sub-Sahara Africa, Asia, Pacific) 
Being 18 years or older by January 1, 2021.
Initiator or part of mobilized networks or movements or change-seeking communities at the local or national level.
Minimum 2 years of consistent involvement in community work in the country of residence, policy change advocacy, movement building within a place-based, issue based or identity-based movement advancing progressive economic, political, environmental and social justice causes.
Willing to engage and represent your community members from your movement on this initiative.
Able to lead on the curation of at least one story of grassroots organizing about/with your community or movement. Skills in storytelling.
Committed to input in the campaign and engaging directly with funders and other enablers (e.g: international non-governmental organisations).
Available to travel for aspects of the programme to be held outside of your country (COVID-19 permitting) for at least 10% of the overall time commitment. (Dependent care allowances and accommodations will be considered on a case-by-case basis.)
For this new initiative, they will consider only people that are not concurrently involved in other advisory or decision-making groups within CIVICUS (Board member, DIGNA, YAT, MAG, Vuka!, Innovation for Change Governance Circle, AGNA Steering Committee, etc.)
Confirmed understanding of the purpose of the initiative, proposed approach and your expected role.
Selection Criteria
Belonging to a mobilized network or movement, or small, informal change-seeking community advancing progressive economic, political, environmental, and social justice causes.
Demonstrated experience in organising and mobilising people, support and resources around initiatives, actions and campaigns addressing social injustices and political issues in the community.
Demonstration of meaningful engagement with community/movement members and 'team spirit'.
Significant contribution to influencing change through their work, leadership and service.
Lack of visibility or solidarity which has hindered your group from financial or other support and solidarity.
Relevance (will the candidate's movement or network benefit from being part of this grassroots resourcing campaign process).
Application
Applicants must complete and submit the application form before 26 November 2020 at 23:59 GMT+2.
For more information, visit CIVICUS.