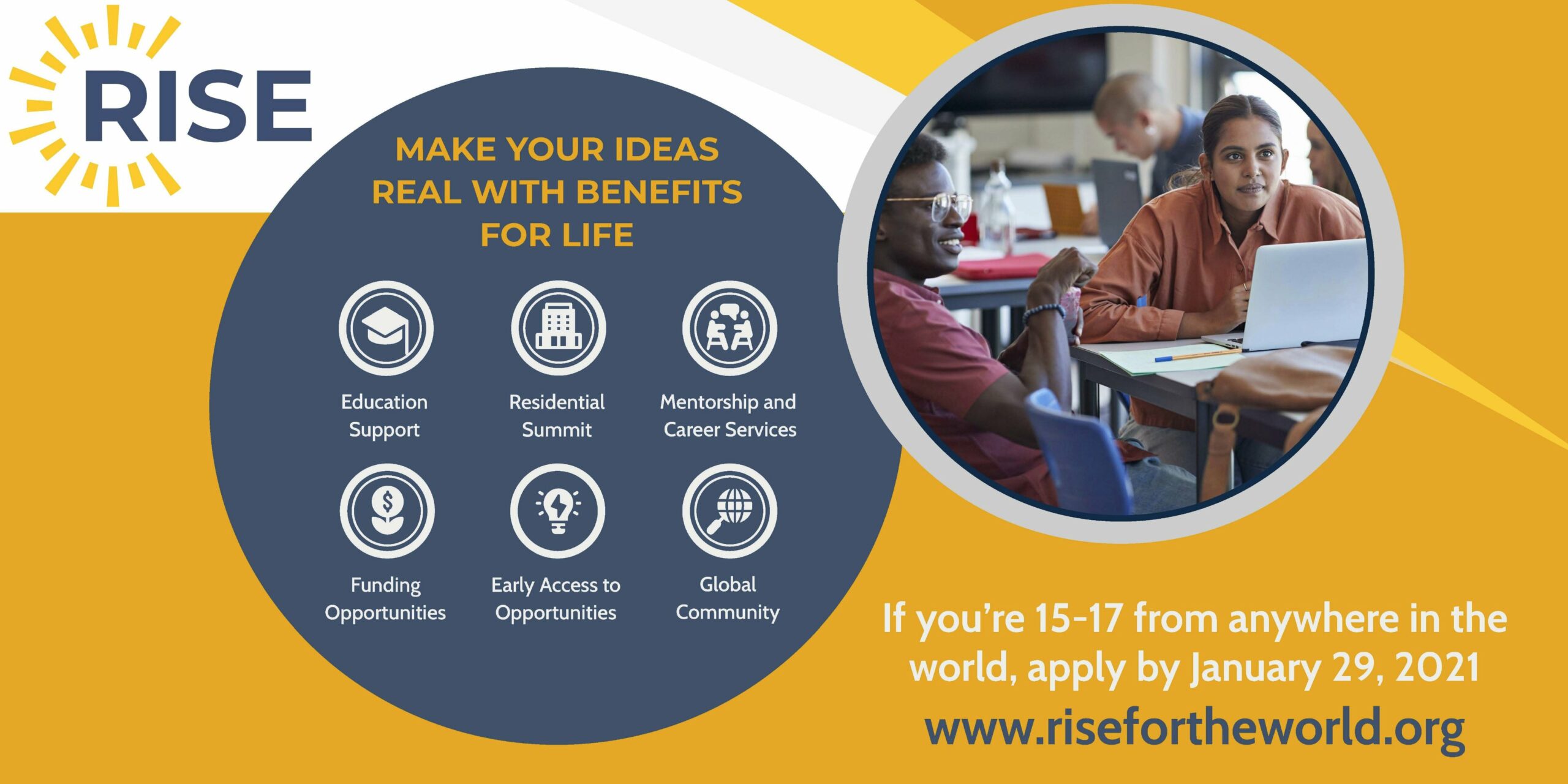 Rise Global Talent Program 2021 for Young Leaders
Deadline: January 29, 2021
Applications are open for the Rise Global Talent Program 2021. The program finds extraordinary young people who need opportunity and supports them for life as they use their talents to serve others.
An initiative of Schmidt Futures and the Rhodes Trust, Rise will build a global community of future leaders, connecting everyone who applies with a network of peers, learning resources, and additional opportunities from Rise partners around the world.
Each year, Rise will select 100 Global Winners, ages 15 to 17, and provide them with individualized support throughout their lives as they commit their talents to building a better world. Winners will receive need-based financial support for university and internships, mentorship and career services, and access to funding to scale up their social impact throughout their careers.
Benefits
Education Support: Receive need-based financial support for university and internships, a technology package, and free online courses.
Residential Summit: Meet other Rise Global Winners at a fully-funded summit and explore leadership, service, and your future career path.
Mentorship and Career Services: Access individualized resources and guidance as you embark on your career journey.
Funding Opportunities: Apply for funding to scale up your service to others, or compete for investment to start a social enterprise.
Early Access: Be the first to know about scholarships, internships, and other opportunities through our partner universities and organizations.
Global Community: Stay connected to a community of future leaders through annual events and opportunities.
Eligibility
If you are between the ages of 15 and 17 as of July 1, 2021, and interested in serving others throughout your life, you are eligible to apply to Rise.
You can be from any country in the world..
Whether you're interested in science, art, community organizing, or any other topic, they want to hear from you.
Desired Qualities
Brilliance: You learn quickly and challenge yourself with new problems.
Perseverance: Obstacles don't keep you down for long. You embrace the challenge and overcome it.
Calling: Your superpower, your passion. You care about something and have the motivation to achieve it.
Integrity: Honesty and strong moral principles are core to who you are.
Empathy: You understand others and relate to their experiences.
Application
The world's most important problems will be solved by tomorrow's leaders. Join the first-ever Rise cohort and become the leader your community needs.
Apply here or nominate someone here
For more information, see FAQs and visit Rise Program.