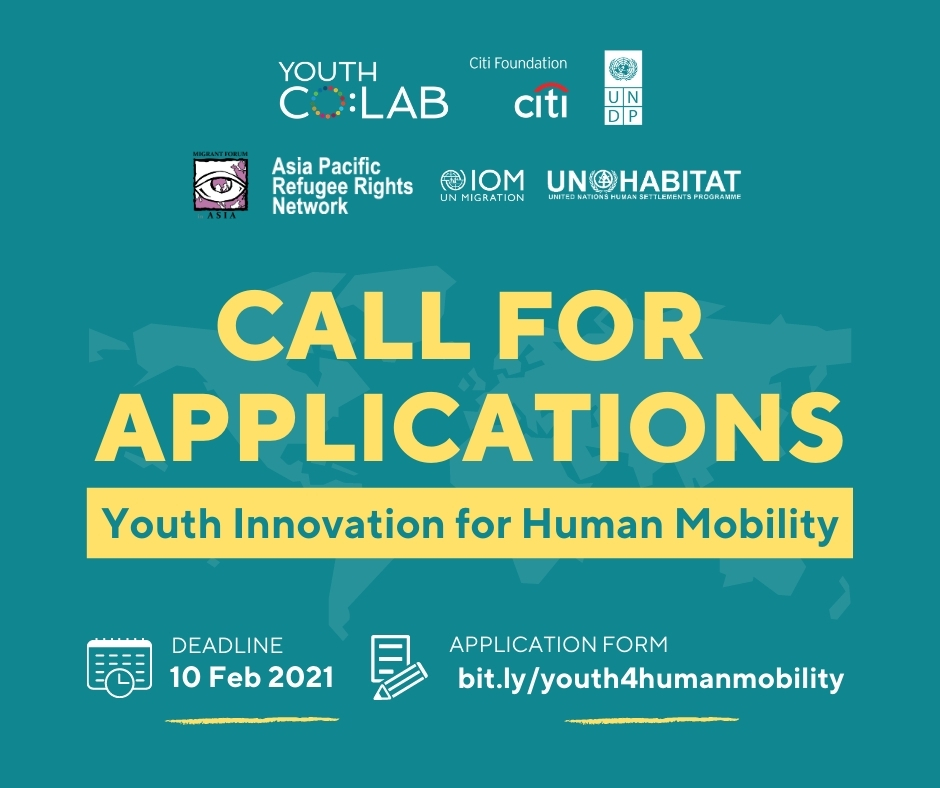 Call for Applications: Youth Innovation for Human Mobility Initiative 2021
Deadline: February 10, 2021
Are you a young changemaker in the Asia-Pacific region with an exciting business proposal or an innovative idea to improve the lives of migrants, displaced people and their host communities among the urban poor? Then apply to the Youth Innovation for Human Mobility Initiative 2021.
Program Overview
1 billion people, or about 1 in every 8 persons around the world, live in informal urban areas, where families across generations are often squeezed into tiny, makeshift dwellings without access to running water, adequate sanitation and other essential services. Many are unemployed or in precarious work situations that barely pay for their daily survival. Their communities typically experience weak governance and rule of law, and their voices are rarely considered in urban planning processes. The impact of disasters and climate change is increasingly worsening such challenges.
Most people in informal urban areas live in the sprawling megacities of Asia, with internal and cross-border migrants, displaced people, youth and women often over-represented, contributing to their exclusion. The marginalization of migrants and displaced people is frequently compounded by factors related to immigration status or municipal registrations, access to information and social support networks, or discrimination and xenophobia.
The UNDP Human Mobility Team and Youth Co:Lab, an initiative co-led by UNDP and Citi Foundation, are partnering with the International Organisation for Migration (IOM), the UN Human Settlements Program (UN-Habitat), the Asia Pacific Refugee Rights Network (APRRN), and Migrant Forum Asia (MFA) for the first Youth Innovation for Human Mobility initiative in the Asia-Pacific region.
Benefits
Receive up to US$ 1,000 to springboard your innovation;
Join the Youth Co:Lab Springboard Programme (an incubation platform for young SDG entrepreneurs to turn innovative SDG solutions into sustainable businesses);
Take part in the Youth Co:Lab Summit (a flagship event that brings together the brightest young entrepreneurs in the Asia-Pacific region, connecting them with a support network to help them succeed);
Be featured in a multimedia campaign for broad exposure, including videos, blogs and posters.
Eligibility
Open to teams with proposals that target a range of challenges experienced by migrants, displaced people and their host communities among the urban poor, namely:
Generating jobs and income for the urban poor, particularly in ways that protect natural resources and avoid environmental damage;
Improving relations between migrants, displaced people, their host communities and local authorities;
Preventing or lessening the impact of disasters and climate change on the urban poor;
Enhancing health and other essential services for the urban poor.
Assessment Criteria
Applications will be assessed based on the extent to which they:
Address at least one of the social or economic challenges.
Are specific to the urban poor, especially in informal settlements.
Respond to the particular challenges of migrants/displaced people in the target areas, particularly women or youth.
Involve people from the target community in the proposal development.
Include pictures or videos to document the objective and process of the project development.
Are innovative.
Demonstrate the potential for the proposal's viability and long-term sustainability.
Application
If you have an innovative idea, then:
Get together in a team of 2 or more people (all between the ages of 18 and 30 years)
Involve at least 1 person from the target community in your team
Develop an initial project idea/proposal
Document through pictures/videos what social or economic challenges you are trying to tackle and how you plan to go about it
Fill in the form below and submit on or before February 10, 2021
For more information, visit Youth Innovation for Human Mobility.