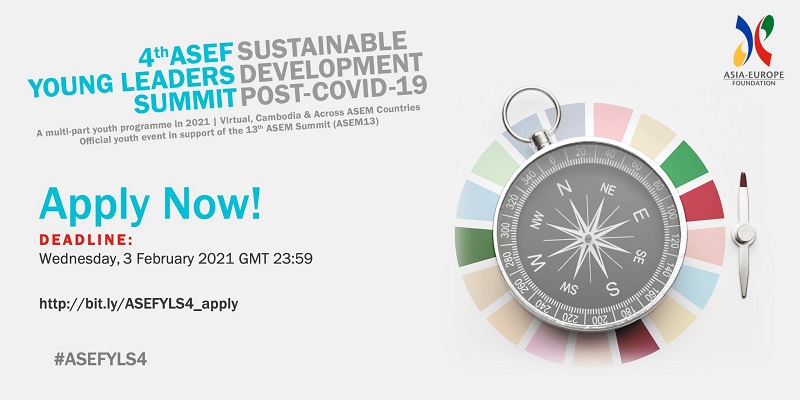 4th Asia-Europe Foundation (ASEF) Young Leaders Summit 2021
Deadline: February 3, 2021
Applications for the 4th Asia-Europe Foundation (ASEF) Young Leaders Summit 2021 are now open. The 4th ASEF Young Leaders Summit (ASEFYLS4) is a fully-funded 10-month long youth leadership program connected to the 13th ASEM Summit (ASEM13) in June 2021 in Cambodia.
The ASEFYLS4 focuses on 'Sustainable Development in a post-COVID-19 World' and incorporates 3 spheres for youth leadership: self-leadership, team leadership and societal leadership. ASEFYLS4 is preceded by a virtual ASEFYLS4 Navigators Training, which served as a springboard and capacity building opportunity for youth facilitators who will guide the ASEFYLS4 participants.
The 4th edition is a hybrid project with collaborative elements taking place virtually, in Cambodia, as well as across ASEM countries. They address 4 thematic areas:
SDG3: Good Health & Wellbeing – Ensure healthy lives and promote wellbeing for all at all ages
SDG4: Quality Education – Ensure inclusive and equitable quality education and promote lifelong learning opportunities for all
SDG8: Decent Work & Economic Growth – Promote sustained, inclusive and sustainable economic growth, full and productive employment and decent work for all
SDG13: Climate Action – Take urgent action to combat climate change and its impacts
Benefits
Receive a certified course/training by world-leading institutions on Asia-Europe relations and the Sustainable Development Goals, as well as Leadership.
Have the rare chance to interact with ASEM Heads of States and Governments to present the youth voice and even have the once-in-a lifetime opportunity to moderate a Youth Dialogue with an ASEM Head of State or Government.
Bring the youth voice into the multilateral policy arena and contribute to the ASEM Process. Be part of and even featured in the ASEM-wide Youth Leadership Report and have your perspectives reflected in the ASEM Youth Declaration, that will be presented to the ASEM Leaders at the 13th ASEM Summit Opening Ceremony.
Leave a positive mark in local communities across Asia and Europe and bring in your enthusiasm, knowledge and skills to 15 ASEFYLS4 Leadership in Action projects on the SDGs.
Have access to and become a member of the ASEM & ASEF youth community opening doors for cross-regional collaboration and exchange.
Cost
The organisers will cover professional/academic training & leaderships courses for all participants, including certificates.
For the selected ASEFYLS4 Summit youth representatives, the organisers will also cover the accommodation and meals for the duration of the on-site event in Cambodia*, plus a travel subsidy from your country of residence to the starting point and back.
Eligibility
Open to citizens of any of the 51 Asia-Europe Meeting (ASEM) Partner countries;
Students, entrepreneurs, academics and young professionals – all between the ages of 18 and 30;
Have strong verbal and written command of English.
Selection Criteria
When assessing the applications, ASEF and its partners will lay extra weight on the:
Originality of the motivational statement.
Contribution with knowledge and/or skills to the Leadership in Action Projects.
Proven experience with and/or expressed interest in Asia-Europe relations.
Current or past extra-curricular (and/or professional) activities that are both relevant for the overall program and that could enrich the diversity of expertise and perspectives of the overall participant group.
Application
In the application, they would like to find out more about your personal and professional background, your motivation to join and your possible contribution to the ASEFYLS4.
The deadline for application is Wednesday, 3 February 2021, GMT 23:59.
For more information, visit Asia-Europe Foundation.