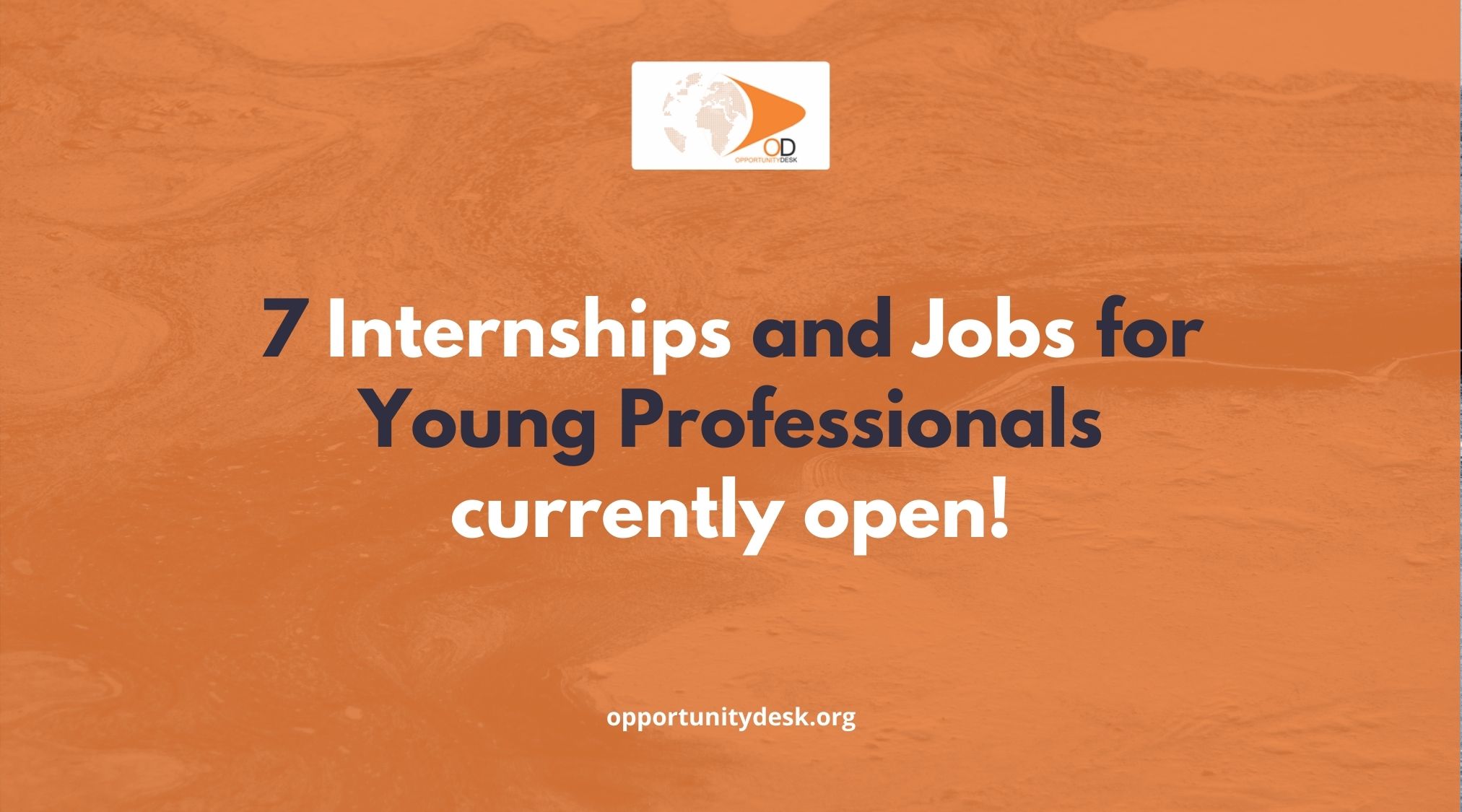 7 Internships and Jobs for Young Professionals – March 2021
Are you a student or young professional who is seeking growth or a career shift in the New Year? Here are 7 internships and jobs that could get you what you want!
1. PR Director at the Human Projects
Are you interested in a leadership position in a global human rights nonprofit? Join the Human Projects International Team! The Human Projects, a global youth run nonprofit is currently seeking an individual with strong leadership skills to serve as the Director of Public Relations on the Human Projects International Team. They are primarily looking for an individual with leadership experience and skills who is capable of learning quickly. Prior experience with communications or public relations would be helpful however it is not required for this position. If you do not have prior public relations experience and are selected for the position, they will work with you to develop those skills.
Click here for details | Deadline: Rolling
2. Energy Talent Company – Graduate Engineers Trainee Program
The Energy Talent Company is a talent accelerator that builds talents for reputable solar energy organisations and projects across the country. They are currently recruiting for the most promising candidates for a two years(2) program with the Energy Talent Company. They work with you to get placed with a solar company at the end of the training. Start your solar career here and now!
Click here for details | Deadline: March 26
3. Communications Officer – EJS Center
The Ellen Johnson Sirleaf Presidential Center for Women and Development (EJS Center) is seeking to hire an experienced Communications Manager to develop and implement an integrated communications strategy to support its work championing women's ascension to the highest levels of leadership and challenging systemic barriers to girls' and women's advancement.
Click here for details | Deadline: March 19
4. 3D Africa Interns at Youth for Technology Foundation
Youth for Technology Foundation (YTF) seeks for brilliant and innovative undergraduate students willing to carry out their academic internship (SIWES) to join the organization as interns for the 2021 Cohort of 3D Africa Internship Program. The selected interns upon joining the YTF team will be among the prestigious 3D Africa Ambassadors. They will learn from the 3D Africa program manager and the entire YTF team on 21st-century engineering/technology skills and organizational behaviours. They will be able to translate the skills they learned to tackle their immediate community challenges, gain a successful pathway into entrepreneurship and civic leadership.
Click here for details | Deadline: March 29
5. Community Recycling Champions at Aid for Rural Education Access initiative (AREAi)
The MissionZeroPlastic project seek to curb plastic pollution in 6 states across Nigeria including the FCT through recovery and repurposing of 600 tons, over 18 million PET bottles in 12 months. Through this project, Aid for Rural Education Access organization will promote community recycling efforts and boost the empowerment of women and environmental awareness across Nigeria. Recycling champions will be provided with a volunteer kit with amazing materials, training, recycling resources and necessary volunteering support
Click here for details | Deadline: Ongoing
6. Young Media Researchers at Climate Tracker
Climate Tracker is seeking out young media researchers to engage in training and research with us to learn how the media landscape for the coverage and reporting on plastic usage and policies has changed in the past 2 years in Southeast Asia.
Click here for details | Deadline: Ongoing
7. Network Development Intern at Building Blocks for Peace Foundation
The overarching goal of the Network Development Intern is to support activities and interventions around the implementation of the Youth, Peace and Security agenda in Nigeria. He/She will coordinate programs and projects related to the advocacy for the effective implementation of United Nations Security Council Resolution 2250, 2419, 2535.
Click here for details | Deadline: March 5
For more opportunities like this, visit our Hot Jobs Page.