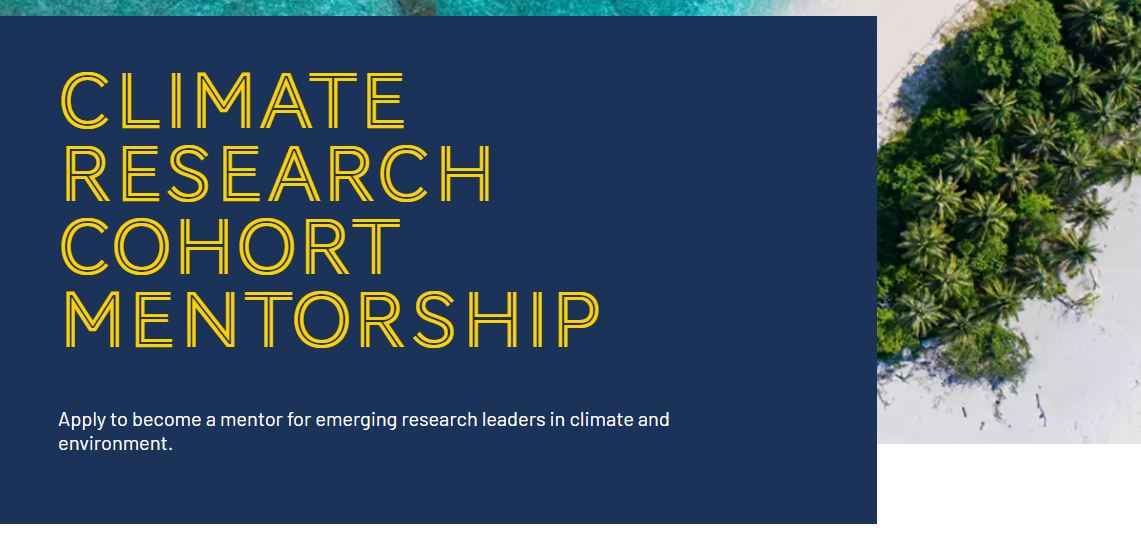 Call for Mentors: ACU Climate Research Cohort Mentorship Program 2021
Deadline: March 15, 2021
Apply to become a mentor for emerging research leaders in climate and environment. The ACU-British Council partnership is seeking experienced, climate-focused academics from ACU member universities to mentor the rising-star researchers of the Commonwealth Futures Climate Research Cohort. 
Being a mentor is a great opportunity to hone your skills as a leader, raise the profile of your institution on an international stage, and play an integral role in developing the next generation of climate research leaders. You will also be supporting the retention of invaluable talent in the sector, which is vital for sustained progress on the global climate agenda.
In the lead up to COP26, the ACU and the British Council have partnered to support a cohort of 24 rising-star climate and environment researchers working towards solutions for some of our planet's most climate-vulnerable regions.
Throughout 2021, this unique cohort will work together, and with experts from across the Commonwealth, to identify opportunities to engage and influence on issues of climate and environment in their communities and beyond. To further strengthen support for the cohort, the ACU is recruiting senior academics to act as program mentors, with a particular focus on research leadership, research communication, and public engagement.
Responsibilities
Your responsibilities as a mentor will include:
Providing encouragement and constructive feedback on work produced for the programme, instilling self-belief in the members of the cohort.
Providing new perspectives and acting as a sounding board for ideas.
Sharing your experience and learning in the field of research and research to action.
Providing advice to challenge and empower the researchers during the programme.
Mentors will be actively engaged in discussions with the researchers throughout the project, including meeting virtually once per month from April to June, and then once per fortnight from July to October. Mentors will also be expected to review and provide feedback on drafts and materials developed by their mentees in relation to the program.
It is not expected that mentors will need to travel to undertake their mentorship, but they will be expected to meet with their assigned researchers and the ACU team via a virtual platform.
Benefits
As a program mentor, you will receive a number of benefits including:
A chance to develop and hone your skills as a mentor and leader, accessing guidance and advice on providing strong mentorship.
An opportunity to engage and attend policy dialogues as part of the cohort program.
Access to webinars and events run by the ACU, the British Council, and climate and environment partners.
Profiling on the program's webpage.
A certificate of participation to enhance your CV.
Eligibility
Open to experienced, climate-focused academics from ACU member universities.
They are seeking mentors who have:

A strong track record of supporting young researchers.
Strong research skills and academic publishing track record.
Experience in communicating research to non-academic audiences.
Application
If you are interested in applying to become a mentor, submit the following to [email protected] by March 15 at 17:00  (UTC):
An up-to-date CV outlining skills and experiences
A brief cover letter answering the following 3 questions (max 250 words per question):

Question 1: What are your main motivations for being involved as a mentor for the Commonwealth Futures Climate Research Cohort?
Question 2: What skills and experiences will enable you to effectively support members of the cohort in regards to research leadership and non-academic engagement?
Question 3: What methods will you use to ensure that you can support your mentee/s throughout the duration of the program?
For more information, visit ACU Mentorship.