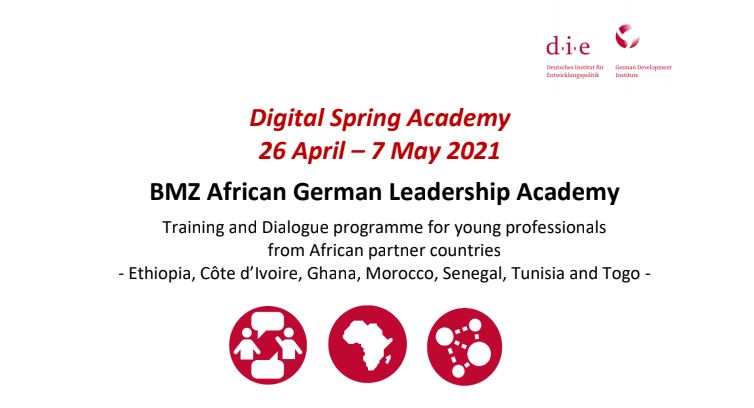 BMZ African German Leadership Academy 2021 for Young Professionals
Deadline: March 12, 2021
Applications for the BMZ African German Leadership Academy 2021 are now open. The BMZ African German Leadership Academy aims to provide a space for mutual learning and dialogue on leadership competencies for governance of sustainable development between seven African countries and Germany.
With the Spring Academy 2021, they want to lay the foundation for long term institutional cooperation and partnership, as well as provide opportunity for a personal network of change makers in various fields contributing to sustainable development in their regions. The Spring Academy 2021 will be the kick-off of the new Leadership Programme. A 3 months version of the BMZ African Leadership Academy is planned from 2022 onwards.
Benefits
Participants benefit from
A high-quality digital programme, combining, academic insights and hands-on training, including insights in the practice of German political, economic and social system.
Innovative training and exchanges on leadership skills crucial for sustainable development in different contexts.
Strengthening digital collaboration skills by working online in highly diverse teams.
Shaping a network of organisations and individuals dedicated to sustainable development from seven African countries and Germany.
Eligibility
Participants should
Be young professionals from African partner countries (Côte d'Ivoire, Ethiopia, Ghana, Morocco, Senegal, Togo, Tunisia) who work for sustainable development in various sectors: government institutions, think tanks, research/academia, civil society and the private sector;
Have a passion for sustainable development and global cooperation;
Have a good command of English;
Be between 25 and 40 years old;
Have at least three years of work experience in a relevant field of sustainable development;
Be sensitive to other cultures and open to digital team work;
Have access to a laptop/computer and internet;
Be available for a full-time schedule between April 26 and May 7, 2021.
Application
Send an email with a brief (around 200 words) statement of your motivation, your CV, and the confirmation of your employer until March 12, 2021 to Malika Yunussova via [email protected].
Kindly indicate in your email how/through whom you learnt about the Spring Academy 2021. Selected candidates will be contacted directly via email until latest March 31, 2021.
For more information, visit BMZ Academy.