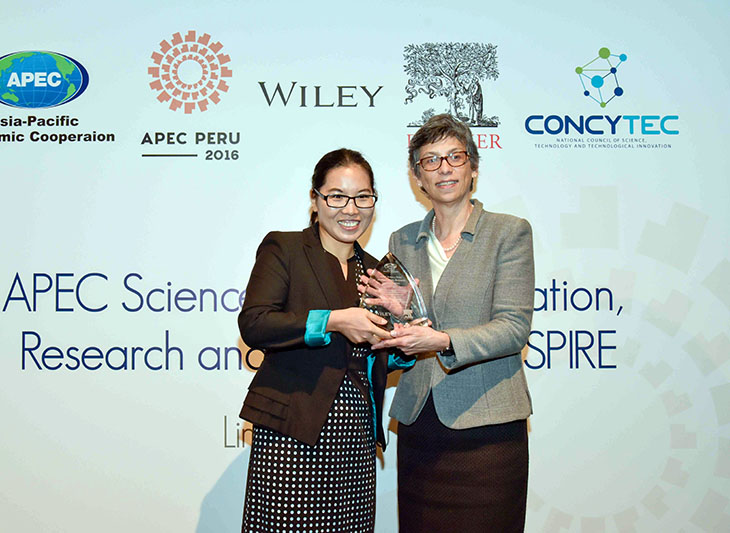 APEC Science Prize for Innovation, Research and Education (ASPIRE) 2021
Deadline: April 27, 2021
Applications are open for the APEC Science Prize for Innovation, Research and Education (ASPIRE) 2021. The ASPIRE Prize is an annual award which recognises young scientists from the Asia-Pacific Economic Cooperation (APEC) economies who have demonstrated a commitment to both excellence in scientific research, as evidenced by scholarly publication, and cooperation with scientists from other APEC member economies.
The ASPIRE Prize supports APEC's mission to:
Strengthen international science and technology networks
Enhance economic growth, trade and investment opportunities in harmony with sustainable development, through policies, innovative R&D and technologies, and knowledge sharing
Improve linkages and efficiency between research and innovation.
Theme
Each year the APEC host economy is asked to provide a theme to guide nominations for the ASPIRE Prize to be awarded in their host year. For its host year of 2021, New Zealand has selected 'Diverse Knowledge for a Sustainable Future' as the ASPIRE nominating theme.
The theme focuses on researcher insights from indigenous and ethnic minority cultures and communities to help inform new frontiers in science, technology and innovation. This may include research that explores interactions between traditional and contemporary approaches to knowledge and science, as well as applications such as better management of natural resources, healthcare and agricultural systems.
Nominees should demonstrate a commitment to excellence in scientific research, and cooperation with scientists from other APEC member economies in subjects such as: biology, chemistry, environmental science, physics, mathematics and other relevant fields.
Prize
Australia may nominate one young scientist from Australia under the age of 40 to be considered for the 2021 ASPIRE Prize.
The top three Australian ranked applicants from this competition will receive a prize of A$2,000 each. The highest-ranked applicant will become the Australian nominee for the ASPIRE Prize.
The nominees from each APEC member economy will then be considered by the full APEC Policy Partnership on Science, Technology and Innovation working group for selection as the 2021 ASPIRE Prize winner, with prize money in the amount of US$25,000 (equivalent to A$32,000 – $35,000).
Eligibility
The applicant must:
Be under the age of 40 at December 31, 2021;
Be from an eligible research institute;
Be an Australian citizen, or an Australian permanent resident who is a citizen of an APEC member economy and is living in Australia at the time of submitting the application.
Eligible research institutions include:
Higher education institutions/provider;
Publicly funded research agencies, defined as an Australian organisation to which the following criteria apply:

it is at least 50% owned or controlled by the Commonwealth or an Australian state or territory government
primarily carries out research and development activities
is providing services, or making facilities available, in relation to science and technology; training of persons in the field of scientific or technological research; or collecting, interpreting or publishing information relating to science or technology

Cooperative research centres;
Incorporated Australian private and not-for-profit research organisations.
Selection Criteria
Applications will be assessed on the following APEC criteria:
Excellence in scientific research, as evidenced through scholarly publication.
Commitment to cooperation with scientists from other APEC member economies.
Contribution to the theme of 'Diverse Knowledge for a Sustainable Future'.
Application
Applications are to be submitted online by a research office or grants office, and must include the following attachments as PDF files:
Proof of Australian citizenship/Australian permanent residency
Candidate's curriculum vitae
Letter of support for nomination. Notes for referees
Photo of nominee (image must be larger than 250×300 pixels)
For more information, visit ASPIRE.