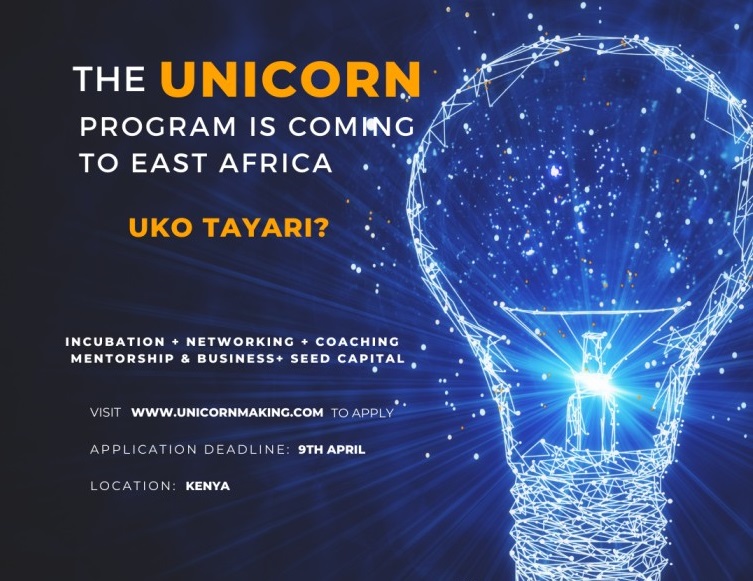 Unicorn Incubation Programme East Africa 2021 for Innovators
Deadline: April 9, 2021
Are you one of the entrepreneurs that will push Africa to the forefront of innovation and global relevance? Apply now for the Unicorn Incubation Programme East Africa 2021.
The Unicorn Programme is open to tech & tech enabled companies interested in incubation, coaching, business networking, mentorship, and seed capital. The program aims to discover, engage, incubate, support and grow innovative startups across the continent. With this programme, they will not only test your assumptions, but they will also help you refine them, and launch your pilot. You'll also have the opportunity to be mentored by global business leaders who have built multi million-dollar businesses .
Programme Curriculum
The programme will cover the following topics:
Vision Boarding
Business Model Analysis
Route to Market Strategy
Funding Sources
Branding and Marketing
Benefits
They provide incubation and training. You will get access to work tools, lunch, peer support, world class mentoring and business coaching.
In addition, you'll have access to meeting rooms and post-incubation workspace, Unicorn's local and international network, a chance to access grants sponsored by AGS and Diatom Impact as well as further access to a $1,000,000 investment.
Eligibility
Open to founders and entrepreneurs looking to fuel their passion and scale their ideas;
Applicants must be Africans.
Application
Applications must be completed by April 9, 2021. Late applications will not be considered.
For more information, visit Unicorn.