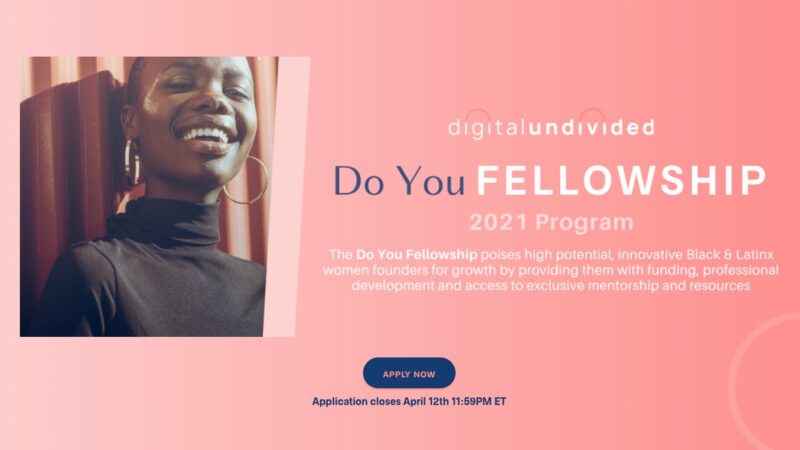 Do You Fellowship 2021 for Black and Latinx Women Founders ($5,000 cash investment)
Deadline: April 12, 2021
Applications for the Do You Fellowship 2021 are now open. The Do You Fellowship poises high potential, innovative Black and Latinx women founders for growth by providing them with funding, professional development and access to exclusive mentorship and resources.
Through the 12-month Do You Fellowship, digitalundivided will award a select group of promising Black and Latinx female entrepreneurs and innovators with access to unparalleled resources and mentorship, professional development, business development, and opportunities to connect and collaborate with a powerful community of founders at the top of their industries.
Benefits
$5,000 cash investment.
$75,000 value in exclusive coaching and services.
Exclusive mentorship from industry leaders, executives and startup founders who have successfully scaled at the multi-million dollar level
Group 1:1 executive coaching and office hours.
Workshops and digital programming on topics like branding, fundraising, talent recruitment, management and more.
Free access to digitalundivided's online community and exclusive resources.
Eligibility
You are eligible if
You identify as a woman;
You identify as Black or Latinx (or both);
Your business is currently generating revenue;
Your business is tech-enabled (website, mobile app);
Your business is poised for growth (looking for capital/investment).
Application
The application will take approximately one hour to complete. If you exit the application before submission, answers are not auto-saved.
Note: If you have a co-founder who is eligible for the program, select one individual to lead the application process.
For more information, visit Do You Fellowship.