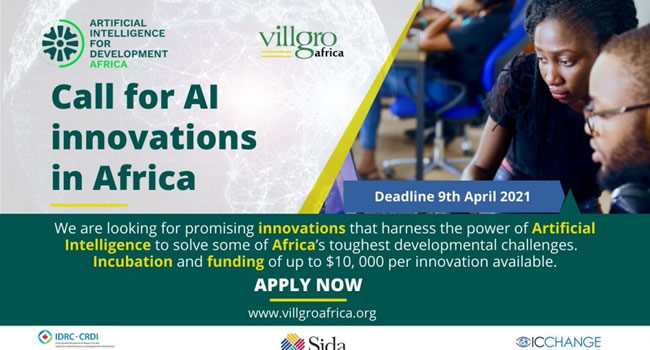 Villgro/AI4D Africa 2021 Call for Artificial Intelligence Innovation in Africa (Up to $10,000 in Funding)
Deadline: April 9, 2021
Are you an innovator using Artificial Intelligence (AI) to solve developmental challenges in the health, agriculture, climate action, or finance sectors? Apply now for the Villgro/AI4D Africa 2021 Call for Artificial Intelligence Innovation in Africa.
Artificial Intelligence for Development in Africa (AI4D Africa) and Villgro Africa have partnered with the aim of uncovering African-led AI innovations that will be instrumental in catalyzing the emerging ecosystem towards responsible development of the technology while strengthening the capacity of African innovators with regards to scaling their impact and improving development outcomes. As part of the initiative, an innovation bootcamp has been organized for these selected entrepreneurial AI practitioners, to work with them to develop innovative and commercially viable products and services.
Sectors of focus include:
Health
Agriculture
Climate Action
Finance
Benefits
Funding: Initial investment funding of up to $10,000 for selected innovations.
Access to Networks: Access to development and investor networks from AI4D and Villgro Africa.
Investment Readiness: Receive mentorship and training for up to 3 months that will enable you to communicate effectively with potential partners and investors.
Eligibility
Open to citizens and/or nationals from East, West or Southern Africa
Applicants should be attached to a university, research institution, private company, or other related organization.
Selection Criteria
An AI-based innovation with the potential for development impact and scale (30 points)
An AI-based innovation with the potential for commercial application (25 points)
A multidisciplinary team of three (3) members e.g. comprising academia and industry/private sector (20 points).
Align with the principles of Responsible AI Design (15 points)
Technical proof of concept will be preferred over unproven ideas (10 points).
Application
Applicants must first log in to their user account on VC4A to access the full application. If you don't have a user account on VC4A, you will be asked to signup and complete 3 onboarding questions, before you can start with your application.
For more information, visit AI4D Africa.