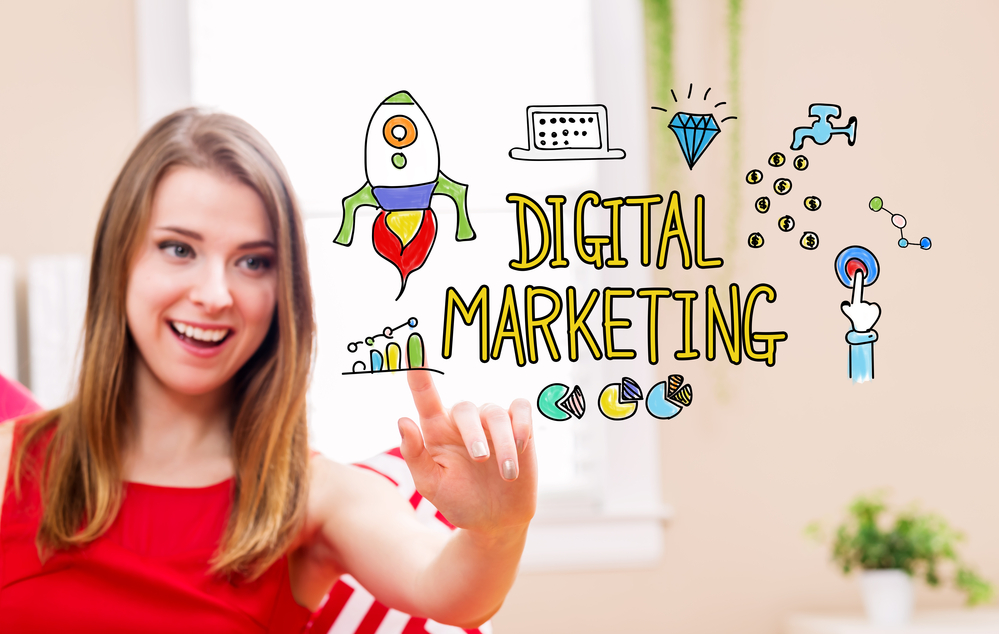 The Beginner's Primer to Becoming a Badass Digital Marketing Expert
Digital marketing is a fast-growing career field. According to the Bureau of Labor Statistics, Careers in the field are expected to grow by 37% between 2021 and 2024. If that's not enough to convince you, consider this: earnings are predicted to grow by over 33% (a whopping $31,700) over the same period.
The income breakdown is pretty impressive, too. According to the BLS, the annual median pay for online marketing managers was $100,000 in 2016, while the top 10% made more than $175,000. The Academy of Marketing Science puts the best-paid marketing managers at the vice president level at an average salary of $212,274.
How do you break into this career? Consider a specialized education in digital marketing, then pursue a job as a content strategist, content director, or search engine optimizer (SEO) to get your foot in the door.
So If you're getting into a digital marketing career, the idea of what a digital marketing expert does can be a little confusing. What exactly is digital marketing? And what kind of work does a digital marketing expert do?
These are all great questions that we'll get to by looking at the definition of digital marketing and some of the tasks that make up a digital marketing expert's role.
What exactly is digital marketing?
There are many definitions of what digital marketing is and is not. Some people say it is everything. It is not true. Let's see…
In my opinion, digital marketing is a way to communicate with your potential customers (yes, this is your website, social media, search engine optimization, apps, emails, etc.) using all forms of digital technology. Digital marketing is a part of online marketing, which includes all marketing activities that use the Internet. Yes, it is a part of online marketing, but not all of it.
You will find the following definition at Wikipedia: "Digital marketing is the use of the Internet, mobile devices, social media, search engines, display advertising, and other channels to reach consumers. A positive digital experience for your customers can drive engagement and help you achieve your business goals."
What does a digital marketing specialist do?
As a freelance digital marketing expert,  you may be asked to write content for the company website, generate search engine optimized (SEO) copy, or create landing pages.
This position may require you to manage social media accounts and post updates to the company's Twitter and Facebook pages regularly. Digital marketing specialists are also responsible for optimizing images, such as photos or graphics for websites. You may also be asked to track metrics such as page views and bounce rates for websites and landing pages.
Whether you are working alone or with a team, your job will promote the company's products or services through online channels. You will also be responsible for building and implementing a consistent strategy with the company's overall direction.
When you are just getting started with your career as a digital marketing expert, it can be hard to know where to focus. But don't worry, you have already taken the first step by being willing to learn and be great at what you do.
If you're looking to enter the field or just starting and want to become a digital marketing expert, here are a few helpful tips for you:
Stand out from the crowd!
There's the classic 80-20 rule; some would even say the 90-10 rule for success in the digital marketing industry. You might be asking what this means and how this applies to you on your journey to becoming a digital marketing expert.
The first step is being able to separate yourself from the crowd, and not just literally. Don't just be in the crowd of other marketers out there. That isn't going to do anything for you long term.
As a digital marketing expert, you need to have an intuitive understanding of the customer's needs and wants and a strong sense of your value and perspective on things to understand what you need to do for them to make your business thrive.
Learn Digital Marketing Fundamentals
First and foremost, build a solid knowledge base: Try to gain as much knowledge as you can about the concept of digital marketing, as well as its different kinds and methods. Many people have a hard time understanding what it entails. This will give you the solid educational foundation that is necessary for becoming a true marketing expert. Find an accredited institution/online academy that provides digital marketing courses that are up-to-date with the latest developments in digital and social media marketing. Understanding exactly what digital marketing is, where it sits as a subset of sales & marketing, and implementing it from a management perspective is essential to any would-be digital marketing expert. Your knowledge of the digital landscape and how it fits into the context of the business as a whole will shape how you communicate with clients in the future
You will need to persevere through anything that comes your way. It will also take quite a bit of patience and persistence to become a digital marketing expert. And just like any other marketing stage, the digital world is fluid. The things that worked yesterday are not necessarily going to work today. To stay relevant in the digital marketing world is always to be learning. Learn from other digital marketers, read blogs daily (like this one), and keep up-to-date on what's going on in the industry with tools like industry newsletters (Search Engine Land Newsletter, for example)
Find someone who knows a lot about the field and can help guide you through the basics. Digital marketing has evolved at such a rapid rate that learning by yourself can be challenging. Having someone to help you learn the ropes will only benefit you in the long run.
Develop Your Communication Skills
Any successful digital campaign will require clear and concise communication between the client, agency, and end-users. For you to be a valuable asset in this process, you'll need to demonstrate your ability to communicate your ideas to all parties. Likewise, learn how to leverage your current skills. Don't let your social media skills go unnoticed. If you're a content creator or editor, use your existing skillsets to build up your personal brand. Create a blog or personal website and start sharing the content you create each day.
Connect with like-minded professionals
It may seem like a big task, but it only takes one contact to open doors. Find out what events your potential professional peers are hosting and attend as many as possible. If you're not sure where to start, try attending your local marketing meetup, join your city's Marketing Professionals Group (e.g., Upwork – Marketing Forum) or look for social media groups on LinkedIn and Facebook.
Conclusion
You need to learn about digital marketing so many things that it is hard to keep track of them all. You may have already learned some of the basics, but there are always new things coming out on the market, which will help your digital marketing career. Digital marketing encompasses a lot more than just SEO and content writing. If you want to become a digital marketing expert, you mustn't just focus on one thing. It would help if you studied the overall picture until you can see the big picture.
For more articles, visit OD Blog.