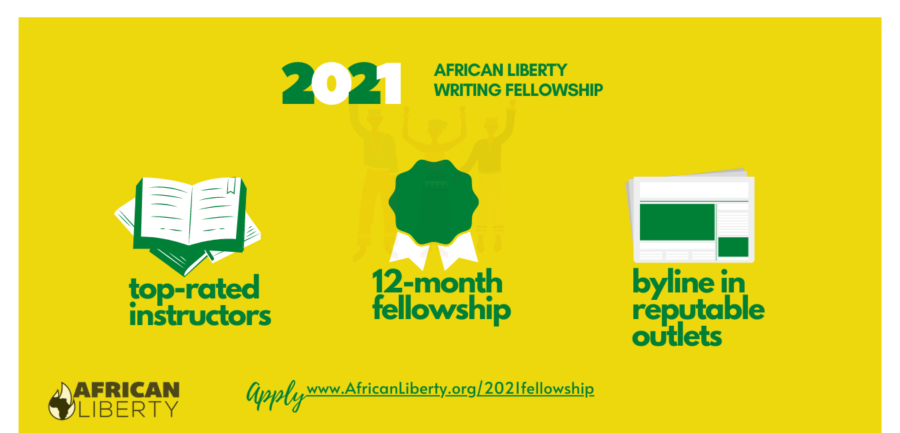 African Liberty Writing Fellowship 2021 for Young Writers
Deadline: May 5, 2021
Applications for the African Liberty Writing Fellowship 2021 are now open. The program is designed to identify promising freedom-minded African writers and provide them with the skills required to be successful in op-ed writing.
Accepted applicants will complete a 5-week mandatory online course after which all candidates will be evaluated. The top twenty candidates will be recommended for admission as writing fellows.
About African Liberty
African Liberty was founded in 2007 as a project of the Cato Institute and IMANI Africa, thereafter the Atlas Network. It is a platform for advancing individual freedom, peace, and prosperity in Africa by promoting civil discussion and debate about social, legal, economic, and world issues affecting Africans.
They identify and train young promising African freedom advocates in professional journalistic writing and help them kickstart careers in journalism and policy by working with Africa-focused think tanks and partner media outlets. They produce and promote original reporting, interviews, and commentary to raise the level of substantive discussion both among Africans and between Africa and the rest of the world.
They carry out these responsibilities through a network of young writers, researchers, and commentators covering topics related to human rights, free expression, economic development, technology, criminal justice, entrepreneurship, and much more.
Eligibility
An applicant has to be enrolled in, or must have graduated from, an African institution of higher learning. Or, be an African pursuing higher education outside the continent.
Applicant must be committed to the entire duration of the program.
Application
Applications should be submitted on or before May 5, 2021. Late applications will be disqualified.
For more information, visit African Liberty Writing Fellowship.