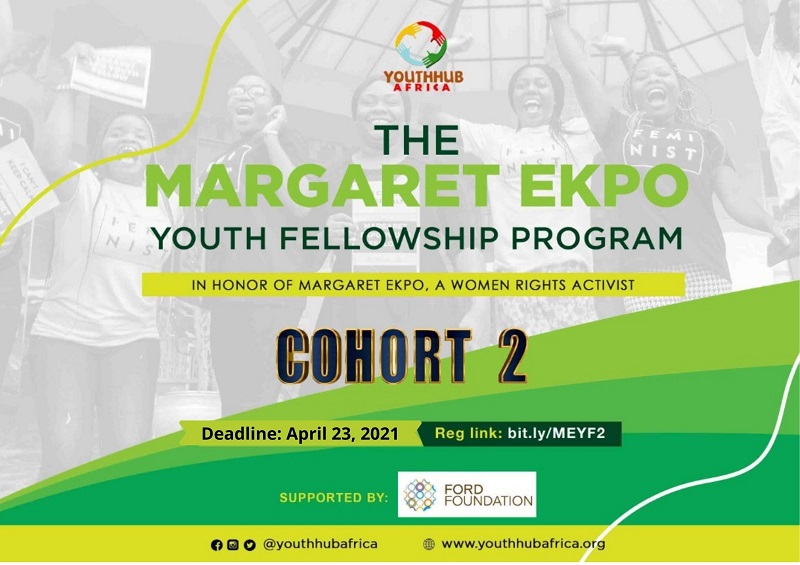 Margaret Ekpo Youth Fellowship Program for Women's Rights 2021 (Cohort 2 )
Deadline: April 23, 2021
Applications are open for the Margaret Ekpo Youth Fellowship Program for Women's Rights 2021. The Fellowship in its first year will build the capacity of 20 emerging activists from across Nigeria through two separate retreats and the opportunity to work with established women who are pioneers of women's rights advocacy in Nigeria.
The program will provide platforms where young activists are exposed to the theory, discussions and interactive processes related to women's human rights, social justice movements, local and global strategies to achieve social justice. The Fellowship will run for 12 months.
Benefits
Fellows will join other women's rights activists for a-3-days all-expense paid retreats- one at the beginning of the fellowship year and the other at the end of the fellowship year.
Beneficiaries will have their capacities developed on storytelling, social justice movement building, and building strategic partnerships.
Fellows will share their stories whilst putting their experiences down in writing.
An editor will work with them individually to flesh up and restructure their stories into a book that will be published.
Young activists will interface with older activists during the Retreats.
Eligibility
An emerging women's rights fellow must:
Be a young woman between 18 and 35 years of age;
Be passionate about social change and activism;
Have a good and traceable record of activism to empower women and girls;
Be resident and working within any state of Nigeria;
Available to attend both retreats and take part in the planned webinars and other online activities;
Be willing to work with other activists on agreed set goals and activities during the one-year fellowship;
Preference will be given to those who are/will work with civil society organisations and social justice movements promoting gender justice;
Must have carried out some activism and her professional work experience, as well as future plans will be considered during selection;
Be able to communicate fluently in written and spoken English.
Application
For more information, visit Margaret Ekpo Youth Fellowship.