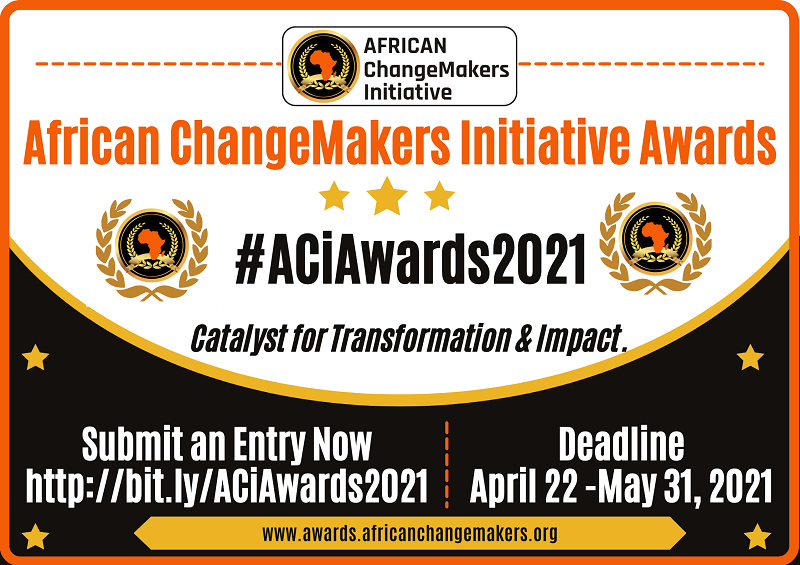 African ChangeMakers Initiative Awards 2021
Deadline: May 31, 2021
Applications for the African ChangeMakers Initiative Awards 2021 are now open. The Awards identifies and celebrates excellence, leadership, entrepreneurial ingenuity of social entrepreneurs, businesses, technologist, and social innovators in individuals, programs, teams, groups, or organizations across Africa and the world.

The African ChangeMakers Initiative identifies people or organizations turning problems into solutions on a large scale, defender of humanity, peace & freedom, and planet protection. ACI Awards honors dedicated life works, careers, impacting businesses, philanthropic, educationist, social or civic servant, and other deserving causes in Africa. Awardees will be honored during African ChangeMakers Leadership Summit (#ACLeads2021) event.
Categories
Group A
African ChangeMakers Rising Star Award – Emerging Leader pursuing careers with a portfolio or doing extraordinary things related to tech innovation, social innovation, design thinking, and changemaking.
African ChangeMakers Courage Awards — Emerging Leader – that choose to make education a priority while facing life challenging events, such as homelessness, heartache, financial hardship, family turmoil, illness, substance abuse and physical disabilities.
Group B
African ChangeMakers Agricultural Award
African ChangeMakers Health & Wellness Award
African ChangeMakers Innovative Education Award – quality education, accessibility, affordability.
African ChangeMakers Environmental & Climate Award -climate, water, land
African ChangeMakers Industry & Infrastructure Award
African ChangeMakers Humanity, Peace & Civil Rights Defender Award
African ChangeMakers Women Advancement Award – reduce inequalities, domestic violence, education etc.
African ChangeMakers Clean & Renewable Energy Award- reduce, reuse, recycle, consumption and production – Innovative & Digital Cities
African ChangeMakers Partnership & Community Development Award – diaspora, friends of Africa, country for Africa, company for Africa
African ChangeMakers Governance Leadership – Strong Institution & Policymakers Award- public figures for their significant contributions to the country and its communities
African ChangeMakers Future of Work & Employment Award- workforce, employment
African ChangeMakers Creative Arts & Entertainment Award
African ChangeMakers Tech & Innovation Award
African ChangeMakers Diversity & Inclusiveness Award
Group C
African ChangeMakers Men/Women of the Year Awards
African ChangeMakers Lifetime Leader Award
Award
Award Recipients outside Nigeria will be given e-plaques, e-Badge and e-certificates which can be printed out and framed for display.
Award Recipients in Nigeria will be given a plaque and e-Badge.
ACi will also recognize some high-level organizations/individuals in some categories for the well-known impact they are making.
Eligibility
Nominee must have a company/project/initiative you had been working on/working with impact that can be verified.
Nominee company/project/initiative must be beneficary to Africa people or the African continent.
Nominee will make a 60 seconds (one minute) video of themselves telling us the following in the video – Nominee Full Name, Country name, name of your company/project/initiative, impact it had in the community or across Africa, why nominee deserve the award and why you are Africa's Changemaker.
Application
ACiAwards 2021 is an online application and e-voting system process thereby enabling all African nations to send in nominations across the world.
For more information, visit ACiAwards.