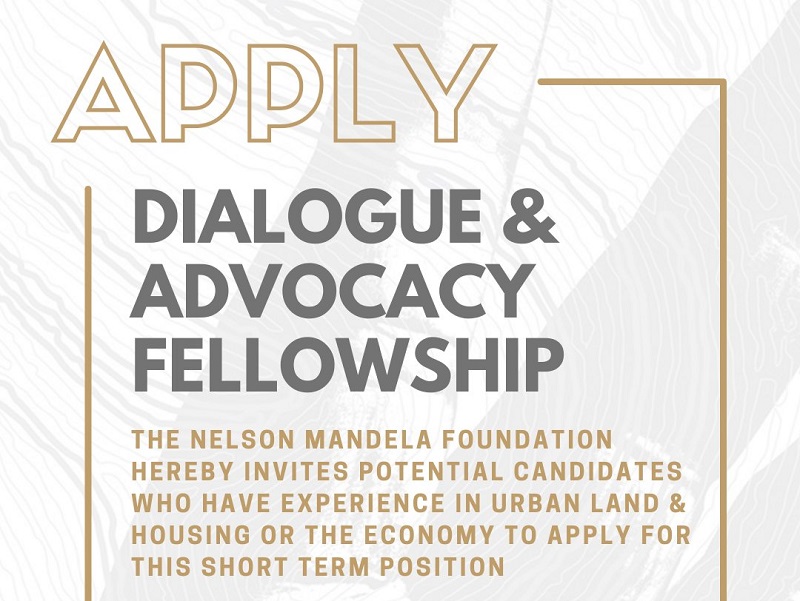 Nelson Mandela Foundation Dialogue & Advocacy Fellowship 2021
Deadline: May 21, 2021
Applications are open for the Nelson Mandela Foundation Dialogue & Advocacy Fellowship 2021. The Nelson Mandela Foundation aims to recruit a Fellow that will be based within the Dialogue and Advocacy unit.
They envision this person as being someone who not only contributes towards public discourse but who also sees research as a verb in that they are committed towards actualising their proposals into tangible outcomes. They are looking for someone who can take initiative, network and engage with stakeholders in a meaningful way. Where possible, they must use relevant empirical evidence from both South Africa and elsewhere in the world. Any interventions or initiatives they propose must be possible in their local context.
Focus Areas
Interested candidates can submit applications in line with either one of these focus areas:
The Uneasy Task Ahead: The Economy
As we grapple with the notion of building back better and what that means for us in a local context, there are proposals such as universal basic income that are being proposed as possible mechanisms for easing the burden of the South Africa's poor. It is envisioned that the Fellow selected would help the Foundation shape its economic positions, have an understanding of economic debates and research and also contribute to the public discourse in these areas. Moreover, the Fellow selected should also be willing to apply their mind to issues of sustainability and the mainstreaming thereof, as well as creating public awareness about the need to be deliberate about South Africa's development path as a country.
A Place to Call our Own: Urban Land and Housing
The issue of land reform is central to realising a more just and equitable future. Beyond mere rhetoric, there is a need to consider and action proposals that can realise this. The Foundation believes that the issue of land reform can be used as a yard stick to measure progress and redress as a country, and while much of the focus has been on rural land, there is a need to focus on urban land in the context of urbanisation. Housing is linked to the issue of land, especially when speaking to the urban context. The selected Fellow should help to advance the discourse on this important issue. More specifically, applications submitted should outline what research, dialogue convenings and other initiatives they would want to undertake while at the Foundation as part of what they hope to achieve.
Benefits
The remuneration for this position is R30 000 a month, with a R1 000 data and airtime allowance.
Eligibility
Applicants must have at least a Masters degree or be studying towards one;
Must be able to write for a popular audience and show proof of ability to do so;
Must be comfortable with public speaking and stakeholder engagement;
Must be able to take initiative, work with little supervision and be self-motivated;
Must be able to convene dialogues and be willing to support the Dialogue and Advocacy team with work that is related to their chosen focus area;
Must be willing to meet deadlines and be hardworking;
Preference may be given to candidates that are Gauteng based.
Application
Prospective Fellows will need to complete the application form, which must be sent along with their CV to [email protected] 
For more information, visit Nelson Mandela Foundation.