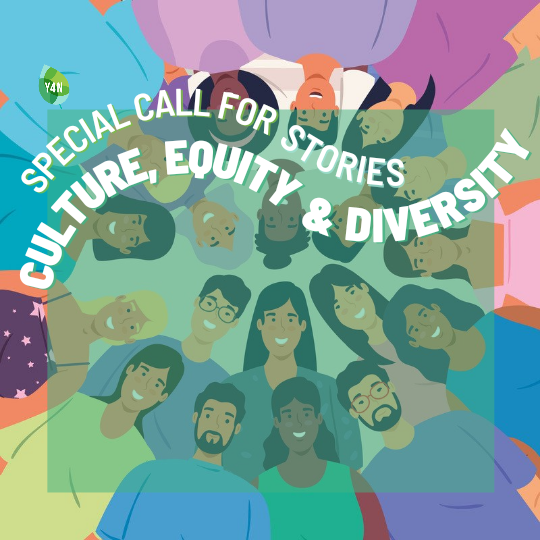 Youth4Nature #DiversityDay Call-out for Stories on Society, Culture and Biodiversity
Deadline: June 21, 2021
Call for submission of Stories on Society, Culture and Biodiversity is ongoing. In observance of the twin Diversity Days 2021 (World Day for Cultural Diversity for Dialogue and Development, 21st of May; International Day for Biological Diversity, 22nd of May), the Youth4Nature's #YourStoryOurFuture Storytelling Campaign is running a month-long special call-out for compelling and strong stories from youth that bridge society, culture and nature.
Although bringing together the social and the ecological is already at the heart of their Storytelling Program, they want to use this specific period of time to center and support global social movements and their remembrance, mobilisations and awareness campaigns happening across May & June, including World Refugee Day, LGBTQI+ Pride Month, and the anniversary of the George Floyd anti-racism protests.
Themes
There will be one prize for each winner under each of the following themes:
Mobility: Migration, displacement, and cultural exchanges
Language: Multilingualism, indigenous languages, and language diversity
Faith: Religion, interfaith work and spiritualism
Ethnicity & Culture: Ethnic/cultural diversity, traditions and minority rights
Race: Racial justice, equal civil rights and anti-racism
Sexuality: LGBTQI+ rights, acceptance and mobilisation
Benefits
Everyone whose submission gets approved for the umbrella YSOF campaign will:
Get their story uploaded to the digital multimedia Story-map, with the potential to be featured on socials, newsletter and website.
Become a member (for individuals)/partner (for organisations) of Y4N's brand-new Global Storytelling Community: a sustainable global community to connect storytellers with each other and stay up-to-date with them, promoting impact-driven opportunities, capacity-building resources, co-produced activities and collaborative mobilisations.
Be on the pool of potential first grantees for our upcoming pilot micro-grants program, which will exclusively offer Storytelling Community members & prospective storytellers seed and growth funding for youth-led/intergenerational climate-nature projects on-the-ground, coupled with mentoring and training opportunities.
Prizes
A total of six winner stories will be chosen at random among approved submissions for each category that meet the eligibility criteria, adhere to the call-out's themes, and follow the general submission guidelines.
Regarding prizes:
For individuals, the winner will be entitled to a single prize of their choice worth up to US$75 USD, including one of the following options:

Costs of a creative artistic software/editorial program that would help share their story and biodiversity work with a wider audience.
Grant-based contribution to on-the-ground initiative or projects led by social justice and cultural groups seeking to create/extend their environmental programs, with an emphasis on empowering, mobilising and capacity-building endeavours.
Expenses of educational and capacity-building materials on diversity, equality and inclusion (DEI) issues in the biodiversity space. Examples include courses, books, learning materials, equipment, journal subscriptions, etc.

For groups, the winner will be entitled to a single prize of their choice worth up to US$250, including one of the following options:

Costs of storytelling-related equipment and resources that would help amplify the group's story and biodiversity work.
Grant-based contribution to the group's on-the-ground biodiversity initiative, with an emphasis on social justice, minority/marginalised groups empowerment and DEI capacity-building endeavours.
Expenses of shareable educational and capacity-building materials on environmental justice, and on DEI/social issues. Examples include courses, learning materials, books, equipment, journal subscriptions, etc
Eligibility
Stories can be in a variety of formats, including text, audio, image and/or video submissions.
Stories can be in any approved language and from any region and country across the world.
Stories must be submitted between May 21 and June 21 at 00:00 PST, and approved by June 28. Approval is based on a review process to ensure the submission meets their guidelines. 
Only one story per individual/group will be accepted for this competition.
Stories must be original and personal, authored by either:

A young individual between 18 and 30 years old. For those under 18 years old, parental consent is required for the submission to be approved OR
A group initiative that is led by youth, or that it is made up of at least 50% youth.

Stories must be looking for personal narratives that explore the links between biodiversity and socio-cultural issues, answering or showcasing the following question: "What's the relationship between social issues, cultural diversity and biological diversity? Why and how are each important to/impactful on the other?".
Stories must include actions, reflections or art on biodiversity which are FOCUSED or / and (preferably) LED by individuals and communities with lived or advocate experience on contemporary social and cultural issues under the six prize categories. Below are examples of topics,, stories could address:

Refugees building an organic community garden to green an urban space. 
Heritage as the nexus between the preservation of language and the preservation of biodiversity.
Interfaith-group-led advocacy campaigns to conserve biodiverse ecosystems.
Cultural traditions and the practices of a particular ethnic group to protect and restore natural ecosystems.
Raising awareness of how areas with historically marginalised groups have less access to green spaces in countries with historical racial inequalities.
The role of LGBTQI+ solidarity and mobilisation in guarding and promoting biodiversity.
Application
Click here to submit your story
For more information, visit Youth4Nature.