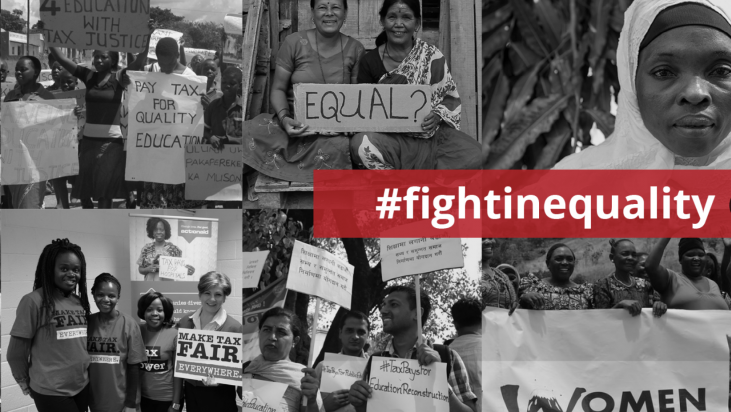 Alliance for Equality in Latin America and the Caribbean is hiring a Regional Coordinator
Deadline: June 27, 2021
The Alliance for Equality in Latin America and the Caribbean is hiring a Regional Coordinator. The development stage of the regional alliance today requires a full-time coordinator to allow for sustained growth. They seek that the work of this person can coordinate the organization of the movement, link and integrate new organizations and people, convene spaces for learning, exchange and evaluation, promote the organization of campaigns and strengthen their communication, administration and fundraising efforts.
The Alliance for Equality in Latin America and the Caribbean is a movement made up of human rights defenders, artists, activists and members of social organizations who fight against different types of inequality and social injustice in the region. They are part of the Fight Inequality Alliance, a global movement that seeks to counter the excessive concentration of power and wealth in the hands of a small elite and achieve a just, equal and sustainable world. Intersectionality, feminisms, the power of communities and working from the bottom up are some of the principles that guide their work.
Responsibilities
Be the main point of contact for coordination with the Global Secretariat team and other national and regional alliances outside of Latin America and the Caribbean.
Lead the design and implementation of campaigns, programs and strategic actions of the alliance at the regional level.
Call and coordinate virtual work meetings applying participatory methodologies that involve the network's allies at the regional level.
Promote teamwork by sharing learnings, good practices and lessons from the regional alliance with the global group.
Convene and participate in evaluation sessions to prepare activity reports and quarterly reports of results.
Coordinate the design and implementation of communication strategies to position and make the work of the alliance visible.
Act as spokesperson and attend events and activities in the region's media on behalf of the alliance.
Keep up-to-date on socio-political and cultural situations and processes in the region to link the alliance's work to existing efforts or generate new ones.
Generate support to national organizations for the formation of National Alliances.
Generate and foster relationships with people and organizations linked to the fight against inequality in the region.
Create instances of articulation (calls, dialogues, talks, etc.) with new organizations in search of the growth of the network.
Establish relationships with potential donors and actively seek funding sources or conduct fundraising activities
Remuneration
$1,500 – $2,000 USD (adjustable according to the territory and according to skills and experience).
Eligibility
Applicant must show commitment to developing, promoting and putting into practice the objectives and values ​​of the Fight Inequality Alliance, as well as adhering to and upholding their principles, which include:

Understanding, analysis, commitment to feminism.
Commitment to the most oppressed and the fight against all forms of discrimination.
Commitment to the organization and grassroots leadership.
Be open to learning, follow the example, be responsible to those who experience oppression based on gender, race or ethnicity, disability, social group, membership of the LGBTQIA community, territory, etc.

Previous experience, recent work or active participation in an organization, collective or alliance related to the fight against inequalities. 
Training (in formal or informal spaces) and verifiable experience related to the responsibilities described in the role (administration, communication, relationship with global actors and the media, political analysis, advocacy work, etc.).
Efficient time management and ability to work autonomously (organization, work planning, analytical development).
Ability to thrive in an emerging and uncertain space, which continues under construction, without all the systems, processes and support of a large NGO.
Skills for inter-institutional coordination. Experience in more than one country with growing coalitions, alliances, networks or movements.
Interest, availability and experience to interact with an international and multicultural team and in networking at a global, regional and national level.
Leadership experience in a decentralized context and multiple accountability structures.
Leadership committed to empowering more voices, able to exert influence and drive change without line management authority or hard power, and to lead in a way that builds the leadership of others.
Exceptional negotiation and influence skills, with the credibility and management experience to negotiate agreements built by the members of the Alliance.
Excellent fluent oral and written communication in both English (intermediate / advanced) and Spanish. Ability to communicate complex ideas in a simple way .
Knowledge of fundraising, reporting and administrative skills.
Knowledge and analysis of local, national and international contexts, relating them to the issue of inequalities. 
Good use and management of social networks, multimedia and computer tools (Office Parcels).
Be willing to travel internationally without too many amenities when required.
Desirable Attributes
They encourage the participation of profiles of women, youth, Afro-descendants, indigenous people, people identified as LGBTI + or people who live with a disability.
Having lived experiences with intersectional oppression systems, with knowledge and experience of how power and privilege play in the contexts in which we organize ourselves.
Experience of at least 3 years in organizing, promoting campaigns and mobilizations related to reducing gaps, promoting equity, humanitarian aid and / or community work.
Have links and participation in networks, platforms, collectives and networks that give an account of your commitment, and that can nurture your work in the network.
Experience in coordinating international cooperation projects on issues of inequality and social justice.
Training in courses, workshops or specializations in social and community work, conflict resolution, public relations or corporate communication.
Attitude and spirit of teamwork (assertive communication, active listening and coordination).
Management of the Portuguese language.
Evaluation Criteria
Knowledge or experience in fundraising
Experience in political or institutional advocacy
Trajectory or experience of organization in territory and community work
Participation experience in horizontal networks
Disposition / vocation
Relationship and knowledge of the ecosystem of organizations and social movements in the region
Knowledge of the socio-political context of the region
Training in related topics
English level
Initiative and ability to work independently
Knowledge about the Alliance for Equality
Application
Send before June 27 at 23:59 hrs (GMT-5) to [email protected] the following documentation: 
CV in PDF format (no more than two pages).
A letter of reasons in English in which you explain why you are interested, why you consider that you are the ideal person for this position, what experiences you have had that prepare you for the responsibilities of this role and what inspires you to combat inequalities (minimum and maximum two pages).
You can also share up to two examples of your work (such as documentation for the organization of campaigns or mobilizations, links or communication materials, etc.) that you consider to strengthen your application.
For more information, visit Alliance for Equality.