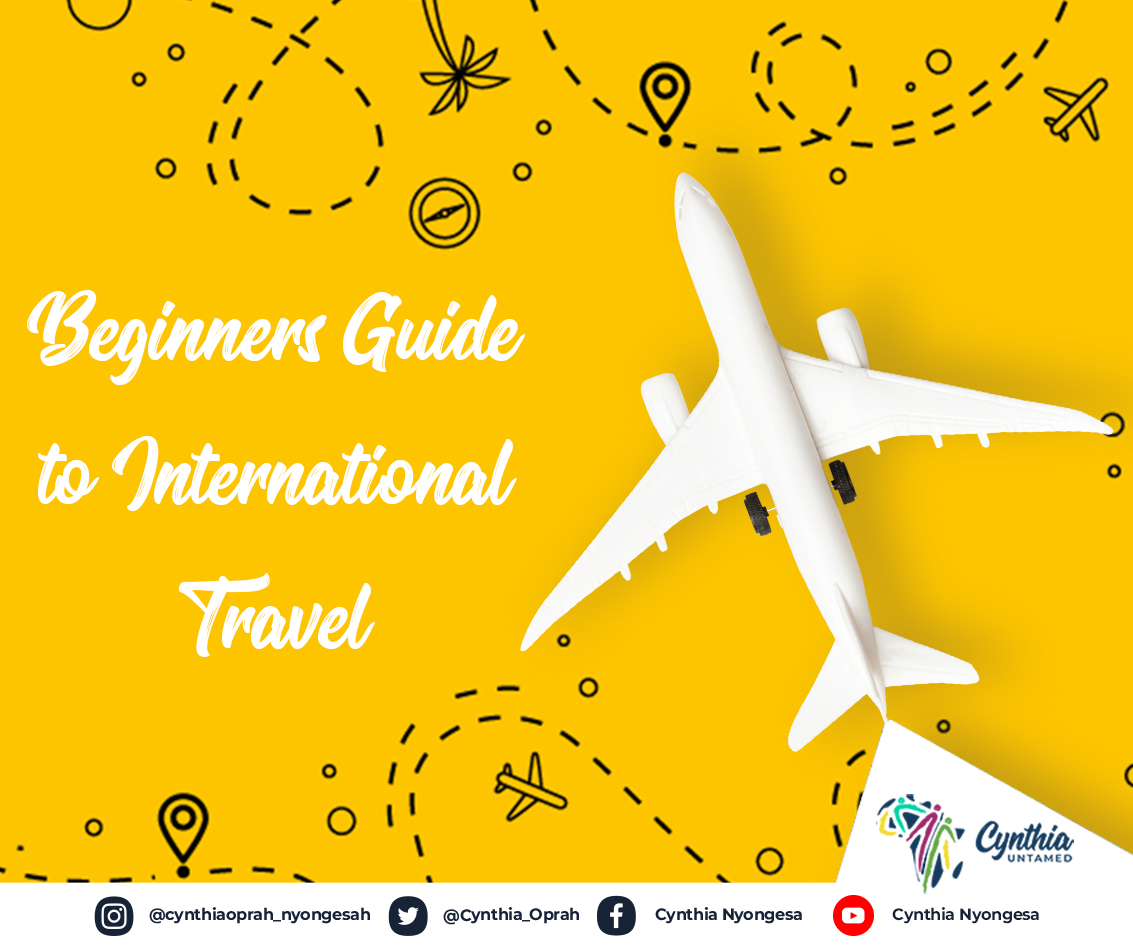 Beginners Guide to International Travel by Cynthia Untamed
"The world is a book and those who do not travel read only one page." ~ Saint Augustine.
The opportunity to travel to a new country often comes with feelings of excitement and nervousness. Here is what you need to know to ensure you move around without any hitches.
This may seem obvious. However, most people wait until they need to travel before they get their passport. This is risky because sometimes you may get a great opportunity where your passport is needed urgently to process your travel and end up missing out. I have done several interviews that involved travel where one of the questions was about whether I had a passport. You could easily miss out if you don't have this sorted in time. On that note, make sure you scan your passport, especially the bio-data page and save it in soft copy. In case you lose your passport, it will be easier to retrieve your details at your nearest embassy.
Travelling to a new country may involve having to interact with people who don't speak your language. This could make your navigation around a new place difficult but don't panic. Learn basic words like greetings, names of places that may help you to ask questions. If possible, look for someone who speaks your language and lives in your destination country to pick you from the airport and show you the necessary routes you will use during your stay.
To avoid the risk of losing your money, avoid carrying a lot of cash. Carry just enough to help you move around like paying for a cab from the airport. If possible, always ensure your cash is in US dollars as it is easier to convert. Avoid converting all your cash as you may not spend all of it and end up losing a lot when you need to change it back to dollars.
No one wants anything bad to happen when they travel. However, it's important to be prepared. Make sure you insure your luggage in case an airline loses your luggage. Make sure your health is covered so that you don't spend so much money in case you go to the hospital while abroad.
Avoid moving around with heavy luggage, especially if you are only spending a few days away. This is to avoid getting extra charges at the airport and to make your movement easier. Travelling light also ensures that you have enough space in your bag to put anything that you might buy abroad, ranging from gifts for your loved ones to new clothes.
Few people do this but this could be a lifesaver especially because there you could be an emergency whether health or environmental. Registering with your embassy ensures that you get up to date information on issues such as emergency flights.
Make sure someone close to you is aware of your itinerary, which includes your flight details and where you will be staying. Find out whether your hotel is in a safe neighbourhood and save any emergency contact numbers in your area.
Ensure that your check-in at the airport is smooth by wearing comfortable clothes. Check the weather forecast and be prepared with an umbrella and boots in case it rains. Carry extra money to buy a winter coat in case you are travelling over winter and you don't have one.
Article by Cynthia Untamed
Cynthia Untamed is a digital platform that amplifies the stories of young change-makers. The platform encompasses a blog where you learn about young people who are determined to use the resources they have to impact the lives of others. It also includes a youtube channel that is building the current generation of leaders by having conversations with and about young people. Conversations range from working at the United Nations and navigating a career in the legal field.
For more articles, visit OD Blog.