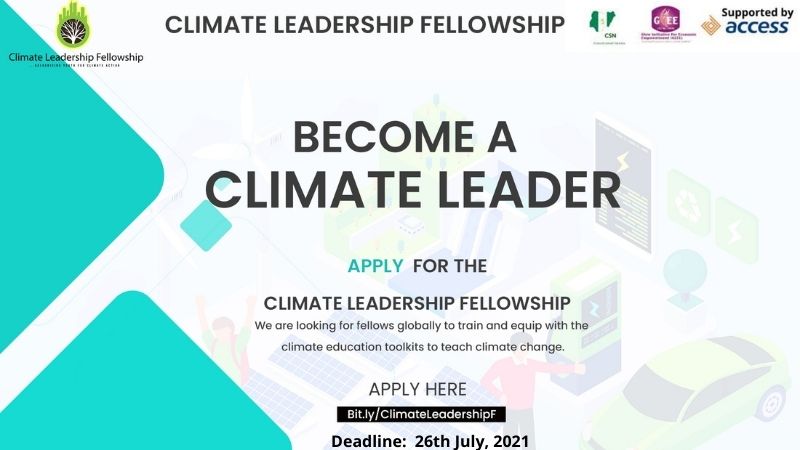 Climate Leadership Fellowship 2021 for Young Nigerians
Deadline: July 26, 2021
Applications for the Climate Leadership Fellowship 2021 are now open. Climate change impact is ravaging the world. In Nigeria, severe cases of drought and desertification is ravaging parts of the north leading to conflicts from lack of water. Agricultural yields have been heavily affected causing high poverty rate. Extreme flooding, disease spread through contaminated water is reported in the south. The time is now to invest into a new generation of young leaders to lead change for climate action.
The Climate Leadership Fellowship initiated by Climate Smart Nigeria in partnership with Glow initiative for Economic Empowerment is designed to provide expert training on climate change advocacy and leadership to a new crop of young Nigerian leaders to build national climate resilience. The 12 week program will welcome and empower 50 leaders with expert training to lead change for climate action, in turn, the fellows will adopt schools and teach climate change across Nigeria. All fellows will receive a climate education toolkit and a certificate of climate leadership.
Benefits
Receive expert training from globally renowned climate activists.
Be trained as a climate change educator.
Receive a Climate Change Education toolkit to teach in secondary schools.
Become a part of the climate change awareness frontliners.
Gain access to free trainings and up skilling programs.
Gain work experience in the area of climate leadership.
Gain recommendations for fellowships or international trainings.
Receive a climate leadership certificate.
Eligibility
Youth aged 22 – 45 years can apply.
Demonstrated leadership for climate change.
Be part of a growing environmental organization or student. It is okay if you're not a part of an organization.
Have passion to promote awareness for climate change.
Be from any part of the world but resident in Nigeria.
Selected applicants should be available and willing to teach climate change within their communities using provided toolkit, participate in the climate leadership expert training, submit a fellowship workplan and be available for all virtual meetings.
Application
The deadline for application is July 26, 2021. Late applications will not considered.
For more information, visit Climate Leadership Fellowship.