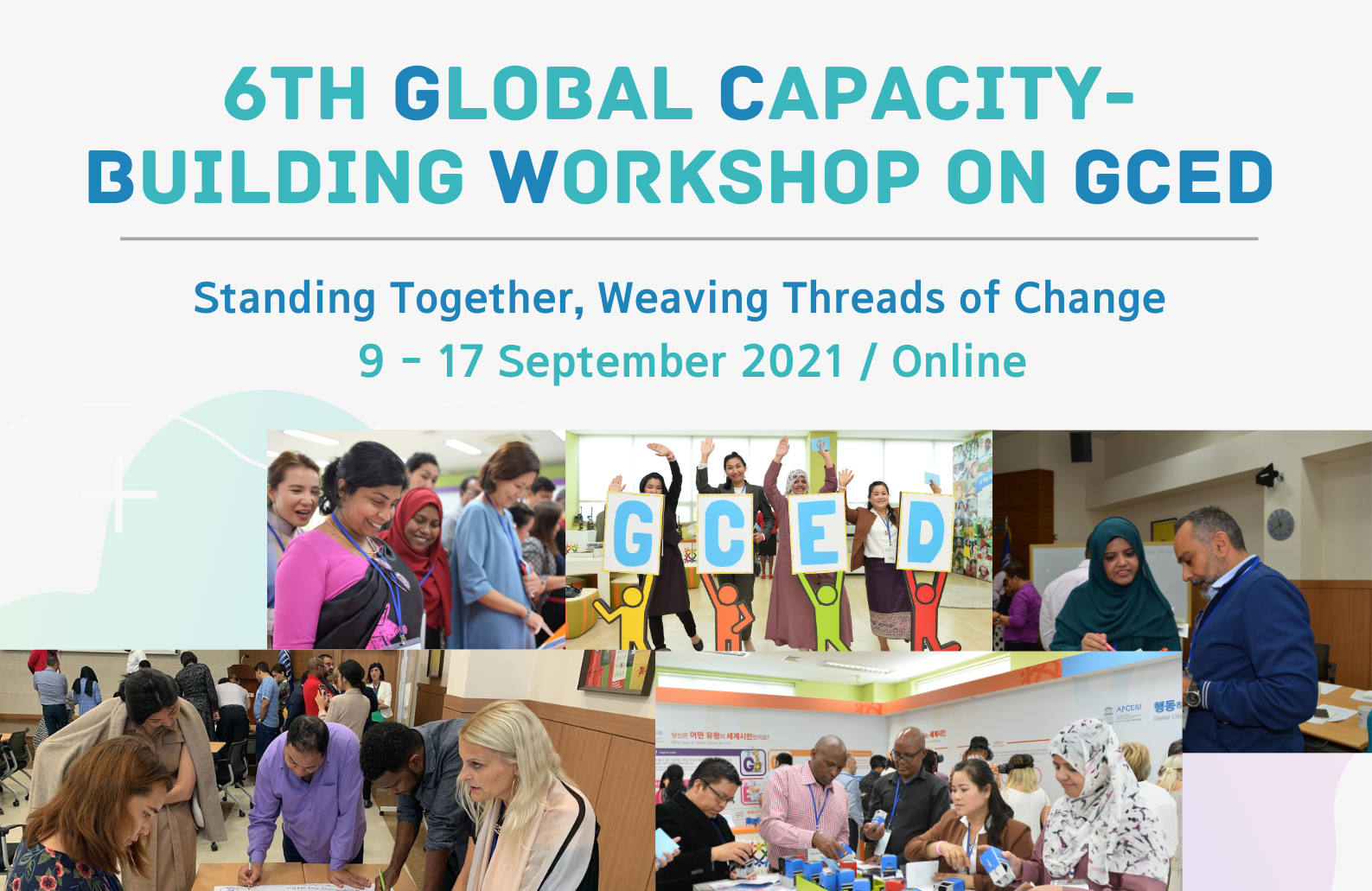 Apply to attend the APCEIU 6th Global Capacity-Building Workshop on GCED 2021 – Standing Together, Weaving Threads of Change
Deadline: August 29, 2021
APCEIU invites applications for the 6th Global Capacity-Building Workshop on GCED – Standing Together, Weaving Threads of Change. This year's workshop will offer online-based intensive training opportunities to participants, helping them to learn about key aspects and competences of global citizenship as well as to introduce innovative ways of teaching and paradigm shift, which are posed by Covid-19.
Those who complete the workshop successfully will be given a chance for 'grant' and 'mentoring' opportunities by submitting a project proposal on GCED.
Workshop Period (Online)
Phase I. Main Workshop: 9 – 17 September (7 days)
Phase II. Mentorship (optional): 4 – 15 October (2 weeks)
Benefits
Intensive and interactive 7 days online workshop
Certificate by APCEIU issued upon successful completion
Win a mentorship and grant opportunity
Eligibility
This workshop is open ONLY to professional educators from APCEIU invites dedicated educators from Official Development Aid (ODA) recipient countries as well as UNESCO member states (refer to the list below)
Applicants MUST complete the e-learning course titled "Prerequisite course for Global Capacity-Building Workshop on GCED 2021" on GCED Online Campus.
Have commitment and willing to carry out GCED activities after the workshop
The alumni of APCEIU's Global Capacity-Building Workshop on GCED are also eligible and more than welcome to apply for this year's online workshop.  
List of UNESCO member states & ODA recipient countries
Application
To apply, you must:
Complete [Part 1] Personal Information (will take about 10 minutes)
Complete [Part 2] Information on Contact Information (will take about 5 minutes)
Complete [Part 3] Statement of Purpose (will take about 30 minutes)
Check [Part 4] Completion of E-learning Course.
For more information, visit APCEIU.