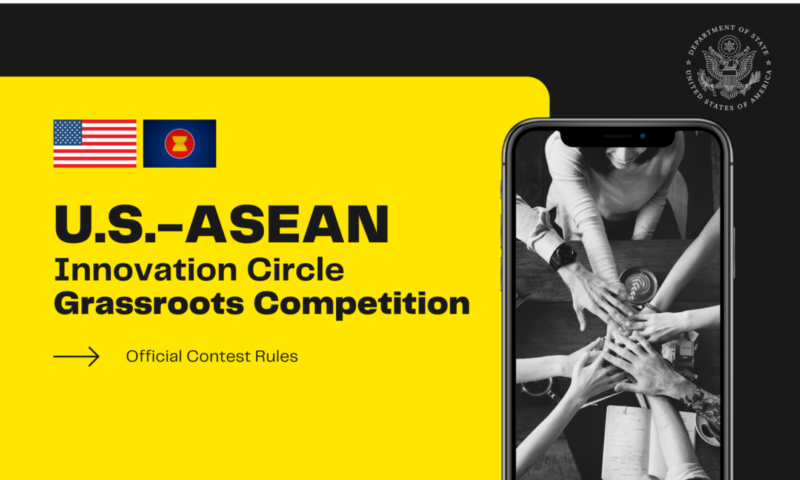 U.S.-ASEAN Innovation Circle Grassroots Competition 2021 (up to $1,000)
Deadline: August 31, 2021
Applications are open for the U.S.-ASEAN Innovation Circle Grassroots Competition 2021. This competition will solicit solutions from the general public in ASEAN member states and Timor Leste to the following challenges to innovation:
Challenges to Innovation related to Women's Entrepreneurship

Challenge #1: How to address the lack of access to networking for growth of women-owned businesses?

Challenge #2: How to address the lack of skills training and capacity building programs for women-owned businesses?

Challenges to Innovation related to Digital Economy

Challenge #3: How to ensure inclusive access to technology for all?
Challenge #4: How to ensure a sustainable supply of human capital in the fast-changing digital economy?

Challenge to Innovation related to Socially Responsible Business

Challenge #5: How to ensure that socially responsible businesses can access adequate resources to become financially sustainable companies?

Challenges to Innovation related to Fostering Start-Up Environments

Challenge #6:  How to address the lack of access to early-stage funding, so that investment does not come too late for start-ups in Southeast Asia?
Challenge #7: How to address the lack of good start-up advisors and enablers in Southeast Asia who can help build companies that have potential to expand outside of the region?
Prizes
Honoraria of up to $1,000 maximum per proposal author (up to $4,000 in total per proposal) may be awarded on a case-by-case basis to the winning entries. In the case of a joint entry, the honorarium will be divided among the authors of the submission (up to four persons allowed per single entry).
To be eligible to receive a prize, contest winners will be required to develop their proposals into full research and implementation reports of up to 5,000 words that would make it possible to put their proposals into practice as foreign assistance activities. Reports will be due no later than 60 days following notification of selection as winning proposals.
Eligibility
Contestants must be at least 18 years old on the date of entry into the contest. Contestants must be residents of a member country of ASEAN or Timor Leste and may not be U.S. citizens or lawful permanent residents.
The individual(s) submitting the entry will be considered the contestant(s) and will be the only individual(s) eligible to compete for the prize. Organizations are not eligible to compete for the prize, either as an entity, or through representation by an individual.  In order to be eligible for the prize, the contestant(s) must provide complete and accurate information.
The following individuals are not eligible to participate in the contest: Employees, interns, directors, and officers of the Contest Sponsor, members of the U.S.-ASEAN Innovation Circle or their affiliates, or the U.S. Government; or any employees, interns, directors, officers of any agencies, companies or entities involved in the administration, advertising, judging, creation, development, execution, and/or fulfillment of the contest, and the immediate family members (defined as spouse, recognized partner, parent, child, sibling, and spouse or "step" of each) and those living in the same household of each such individual.
Once a submission has been accepted for entry into the contest, the contestant's name and country may be publicly identified at the sole discretion of the contestants.
Judging Criteria
Entries will be judged on how well they address the challenges to innovation identified by the members of the U.S.-ASEAN Innovation Circle. Competition entries should propose low-cost, high-impact solutions to these challenges to innovation. Preference will be given to joint entries with authors from two or more countries, and to submissions that propose solutions with a regional scope.
Application
The deadline for application is 11:59 p.m. EDT on August 31, 2021. Late applications will not be considered.
For more information, visit U.S.-ASEAN Competition.