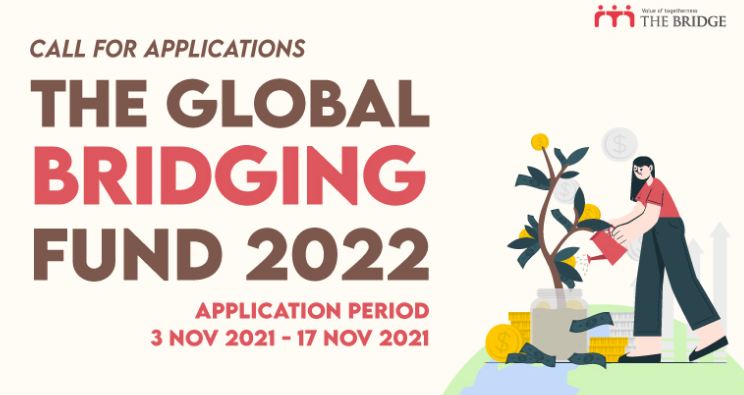 Global Bridging Fund 2022 for Social Entrepreneurs in Africa and Asia
Deadline: November 17, 2021
Are you running a business in developing countries? Are you a passionate entrepreneur hoping to change the world into a better place? Apply now for the Global Bridging Fund 2022. The Bridge International (TBI) calls on changemakers to support their self-reliance through their unique crowdfunding platform.
The Bridge is a platform supporting local entrepreneur's self-reliance through impact donation for co-existence and inclusive growth. Furthermore, The Bridge partners strategic and cost-effective businesses with an established network including local governments, research institutes, universities, and private enterprises.
Benefits
Seed funds up to $5,000 as a 0% interest loan
Marketing opportunities through crowdfunding
Network opportunities to global investors
Eligibility
Open to social entrepreneur in Asian or African countries;
The organisation must have a solid profit/business model;
Must be legally registered in the country of its operation;
Has operated in alliance with the Sustainable Development Goals (SDGs);
Must serve the needs of the marginalized populations;
Must be able to communicate in English.
Application
If you are a social entrepreneur in Asian or African countries, do not hesitate to fill the form and have crowdfunding partnership with The Bridge International!
For more information, visit Global Bridging Fund.