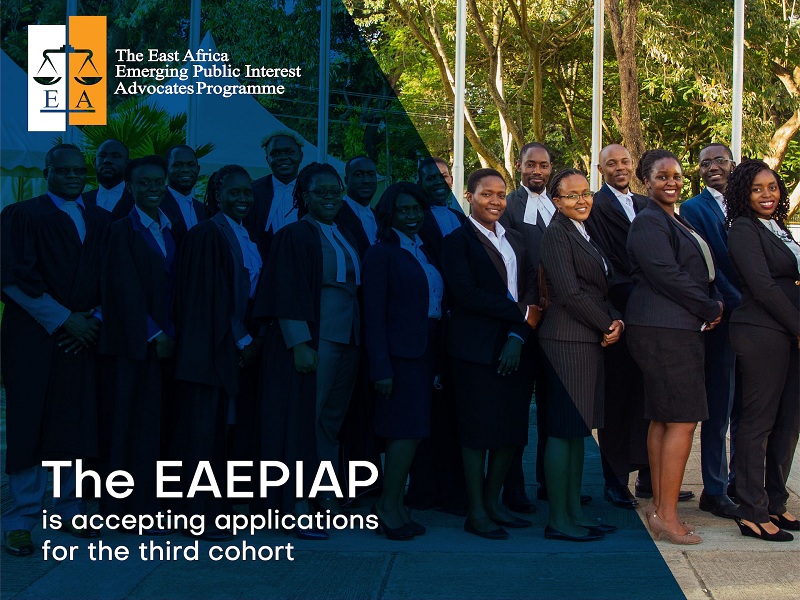 East Africa Emerging Public Interest Advocates Program 2022 [Cohort 3]
Deadline: November 25, 2021
Application are open for the East Africa Emerging Public Interest Advocates Program 2022. The program empowers young advocates through rigorous skills-based training and practical experience in public interest litigation.
The goal of the program is to build the next generation of public interest advocates in East Africa who share a commitment to and passion for promoting social justice and democratic values. This comes from the realisation that there is a limited number of active public interest litigants as most lawyers prefer careers in private and other fields of law.
Program Details
The fellowship provides up to 30 outstanding young advocates from Kenya, Tanzania (mainland), Tanzania (Zanzibar) and Uganda. A 10% special quota is provided for young lawyers from Rwanda, Burundi and South Sudan who meet the requirements for attending the program. Through a tailored approach, the training provides fellows with an opportunity to learn from public interest litigation and advocacy academics and practitioners, both in class and in court for six (6) months under the following carefully designed curriculum:
Residential training: Intensive 1-month residential training program. The residency combines lectures, court visits, community engagement, and practical learning through moot courts and mock trials. Fellows interact with some of the leading practitioners and scholars in human rights, constitutionalism and public interest litigation in East Africa.
Practicum: 4.5 months of practical work in partner organizations under the tutelage of a dedicated mentor. Fellows work on selected problems under the mentorship of an experienced public interest litigant. Practical training in Public Interest litigation and advocacy takes place during this phase.
Closing Seminars: Fellows, trainers, and mentors convene in residence for reflection, evaluation of progress, and to determine the way forward. The program for the respective cohort concludes at this stage as fellows join the program's alumni network.
Eligibility
Any your lawyer, with up to 5 years of experience in both work and litigation and meets the following criteria is eligible to apply:
Be a citizen of the East African Community Member states and expected to reside in the region during the term of the fellowship.
Be able to start the program by 07 February 2022 and commit throughout all phases of the program.
By February 2022, be a recent graduate lawyer admitted to the bar with up to five years of relevant work experience.
Demonstrate passion for human rights, rule of law and a commitment to social justice.
Be passionate about working with the community in pursuit of justice.
Be well versed with the human rights and constitutional context in respective countries and the region as a whole.
Be prepared to work with teams and under a mentor to guide your professional growth.
Have provided all supporting documentation in the required format.
Application
The online application form must be written in English. CSL will not accept any applications that are not submitted via the online application system. Once you start the online application, you will have until the application round closes to submit the completed form. Active but incomplete applications will NOT be considered once the application window is closed.
Applications must include the following supporting documentation to be eligible for consideration:
Proof of citizenship – uploaded to the online application system.
Full transcripts and certificates – uploaded to the online application system.
For more information, visit EAEPIAP.