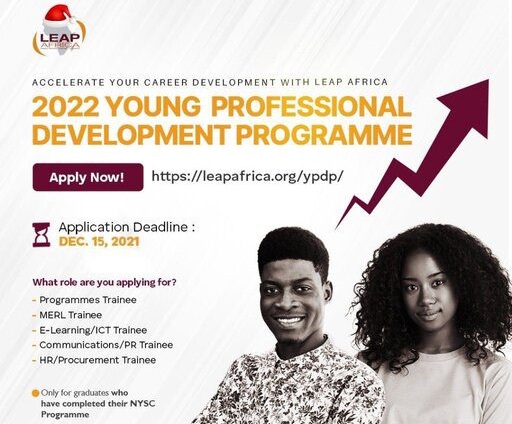 LEAP Africa Young Professional Development Program 2022 for Emerging leaders
Deadline: December 15, 2021
Applications for the LEAP Africa Young Professional Development Program 2022 are open. The Young Professional Development Program is a project aimed at raising emerging leaders in the development sector in Africa.
It is designed to equip fresh graduates with the right knowledge, skills, tools and essential training needed to accelerate their career development, professional potential and opportunities for global exposure. In the end the full potential of the individual is attained.
This program is one of LEAP Africa's premier innovations, and it is solely targeted at refining the talents in young graduates. It is a well structured 12 months post NYSC on-the-job training experience, with hands-on supervisory mentorship that builds the young graduate's key strengths, equipping them with the capacity to create positive and lasting impact in communities across Africa. Hence the skills gap between school learning and practical real world implementation will be bridged by this program.
Benefits
Competitive Benefits
A huge learning culture
Working on impactful projects
A chance to work with innovative minds!
Hybrid and flexible working conditions
Opportunity for a full time employment
Annual Telephone and Data Allowance
Annual Life and Personal Accident
Eligibility
Applicant should have a minimum of BSc degree from an accredited university.
Must have completed the NYSC program with not more than 2 years working experience.
Not more than 27 years.
Candidates should be based in Lagos and able to commit to 12 months at LEAP Africa.
An individual with strong commitment to social change, a history of volunteering is an added advantage.
Innovation driven, rather than embracing status quo
Possess an entrepreneurial spirit with passion for excellence.
Engagement in extracurricular activities in school or community is an added advantage.
Application
Select and apply for your role:
For more information, visit LEAP Africa.