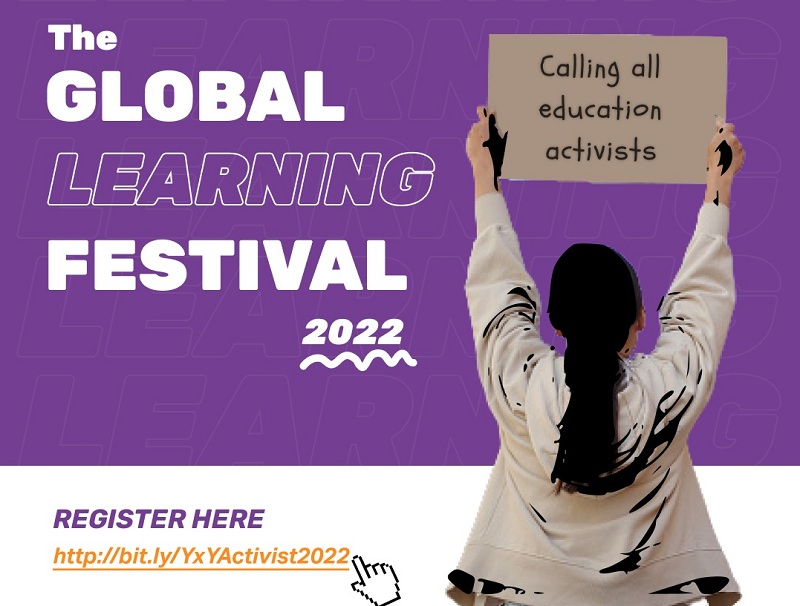 YouthxYouth Global Learning Festival 2022 for Youth Education Activists
Deadline: December 30, 2021
Do you believe that the education system doesn't serve you, your communities, and the planet? Apply to join the YouthxYouth Global Learning Festival 2022. This is a virtual gathering for youth education activists who are transforming education around the world in their schools and communities.
The Festival is organised by YouthxYouth in partnership with UNESCO and Center for Interdisciplinary Research in France. It is a 3-day virtual event for youth activists all around the world from 21st of January to 23rd of January, 2022. The theme for the Festival is How will young people design the future of education?
Benefits
Participants who attend the festival will have the opportunity to showcase their projects to the world, connect with people from other countries, co-create, present and speak at the festival.
Eligibility
They are looking for young people aged 15 to 26 years-old who:
Dream of an education system where every young person can thrive;
Seek to create positive change in their schools, communities, and beyond;
Desire to be actively engaged in transforming education systems;
Enjoy meaningful interactions with a globally diverse group of young people;
Hope to take action with others in their communities, or are already doing so.
Application
Apply to be a YxY Activist and join them on their 2nd Learning Festival to learn and connect with education activists from around the world!
For more information, visit YouthxYouth.