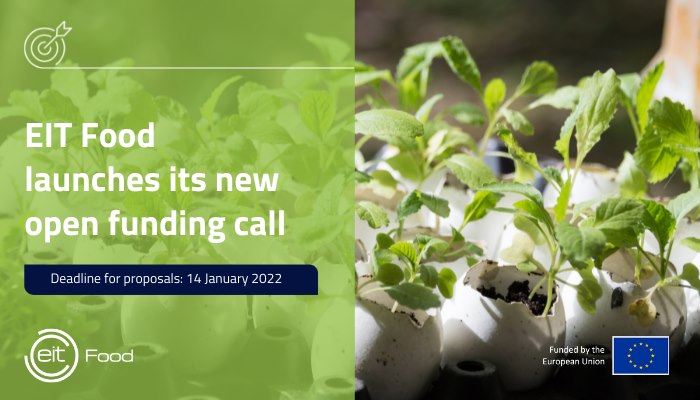 European Institute of Innovation & Technology (EIT) Food Call for Proposals 2022
Deadline: January 14, 2022
The European Institute of Innovation & Technology (EIT) Food has opened its Call for proposals for activities to be included in its 2022 Business Plan. EIT Food's vision is a world where everybody can access and enjoy sustainable, safe, and healthy food – with trust and fairness from farm to fork.
The intention of this Call for Proposals is to maximise the societal, economic and environmental impact of innovative ideas and consortia within the scope of EIT Food's Impact Framework, as described in their Strategic Agenda 2021-27.
EIT Food's Impact Framework targets four primary Impact Goals for food system change:
Improvement in conditions for enhanced public trust in the food system
Reduction in relative risk of obesity & Non-Communicable Disease (NCD) prevalence in target populations due to known dietary factors
Improved environmental impact of agri-food systems
Enabling transition to a circular & sustainable economy
Scope of Call 2022
EIT Food is calling for consortia of organisations to submit proposals for collaborative activities which will bring innovative technology solutions to the market in the agrifood sector.
Proposals responding to this call must include the following key elements:
Propose one or more near-to-market, commercially viable innovative technology solutions aligned with EIT Food Focus Areas, Challenges and Impact Framework.
Innovative solutions must have a TRL level 7 at the time of the proposal submission.
All proposed activities, regardless of activity duration, must launch at least one innovative solution by 31 December 2023, including revenue generated of at least 10,000 EUR. Activities ending in 2024 must launch an additional marketed innovation by 31 December 2024.
Eligibility
Open to all organisations eligible for Horizon Europe funding. It is not a prerequisite to be an EIT Food partner to submit a proposal.
Organisations intending to participate in the call must be eligible for EU funding according to Horizon Europe rules, e.g. incorporated in Europe or associated countries.
Application
To participate all activities must submit a full proposal in PLAZA, EIT Food's online submission platform.
The first step for new organisations is to set up an account on PLAZA. Existing EIT Food Partners do not need to register, as they already have access to PLAZA.
For more information, visit EIT Food.