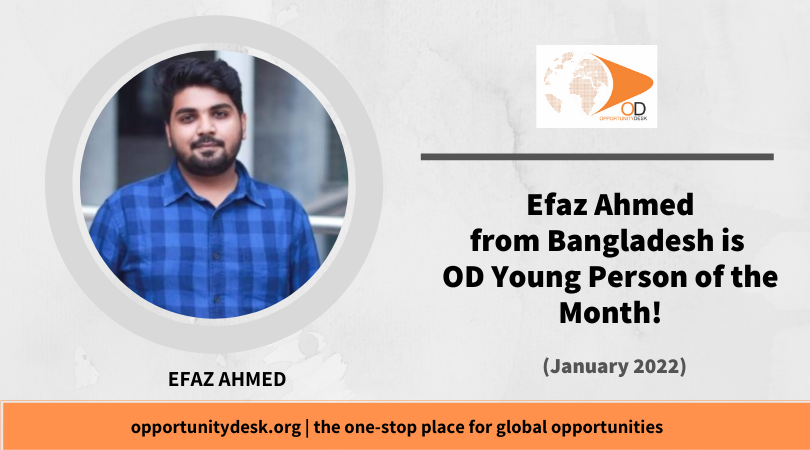 Efaz Ahmed from Bangladesh is OD Young Person of the Month for January 2022!
Welcome to 2022!
Our Young Person of the Month is Efaz Ahmed from Bangladesh! Efaz is the Co-Founder and CEO of Let's Furnish, a Dhaka-based furniture rental platform. They work to minimize the credit gap among the youth population in a country where only 1% of its inhabitants have access to credit purchases. Efaz Ahmed holds a Bachelor's Degree in Biochemistry from Independent University, Bangladesh. Through his work, he has also earned a number of awards and recognition including being recognized as one of the Top 20 Most Emerging Entrepreneur 2020 by Daily Star and Startup Bangladesh.
Read his amazing story below and be inspired!
EFAZ AHMED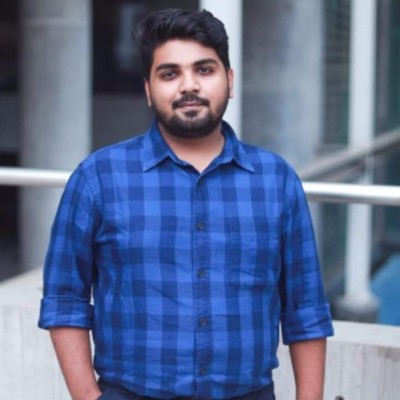 Efaz Ahmed is the Co-Founder and CEO of Let's Furnish Limited, Bangladesh's first Furniture and Appliance rental service funded by the Government of the People's Republic of Bangladesh and the ICT Division. They work to minimize the credit gap among the youth population in a country where only 1% of its inhabitants have access to credit purchases. Efaz terms Let's Furnish as the biggest distributor to credit facilities in the home and living services and he says, is currently the market leader in the local ecosystem with an opportunity to enhance lives of over 2 cr people.
On How They Began
Let's Furnish began in Jan 2018 and their motivation was to ensure a healthy, standard living condition in the capital of the country where the living expenses goes up by 175 annually making it not only one of the expensive cities to live and settle in but also one of the worst cities in term of living standards. Their motivation came from the struggles of his fellow peers who came to Dhaka for a better living and career opportunity but the standards make it hard for self-development and hence they decided to bring in all in one platform with freedom of usage time, freedom of budget but the providing the same quality of living.
Their plans are to be a one-stop lifestyle solution company. They began with only furniture, then they added appliances and now they have devices like laptops and tabs on monthly subscriptions and rent-to-own plans! They consider rent to own as an alternative to credit cards with less documentation and more freedom. They plan to bring in automobile and other life upgrade services to make themselves the one-stop destination for short-term use or credit purchases.
The major obstacle Efaz and his team faced was acquiring vendors and partners as they are a marketplace model and hence, they depend on the vendors for products. Explaining the benefits of the rental as a business owner themselves also proved hard. The risk factor optimization and trust-building were very crucial in the initial years as they were and until to date. They are also the only dedicated company to provide such a service in Dhaka, Bangladesh! To acquire their first vendor, they had to go through 42 unsuccessful meetings but this is what set the stage for them and helped them grow.
His Words of Advice for Young People
"Be persistent, evolving, and a bit patient as I believe good things take time. We should be able to continue the good work given that the result is as per the expectation or not. We will surely be successful if our intentions are well and if not, we will learn and improvise in life."
You can connect with Efaz Ahmed on LinkedIn and Facebook.
Learn more about his business, Let's Furnish, on their website and on Facebook.
Who will be the next Young Person of the Month?
You can be the next Opportunity Desk Young Person of the Month! All you have to do is get a friend to recommend your work or fill out the nomination form here. We want to use the platform to recognize and celebrate the efforts of amazing young people around the world. Oh! And you must be an active Opportunity Desk member, either as a fan, reader or subscriber! Share!