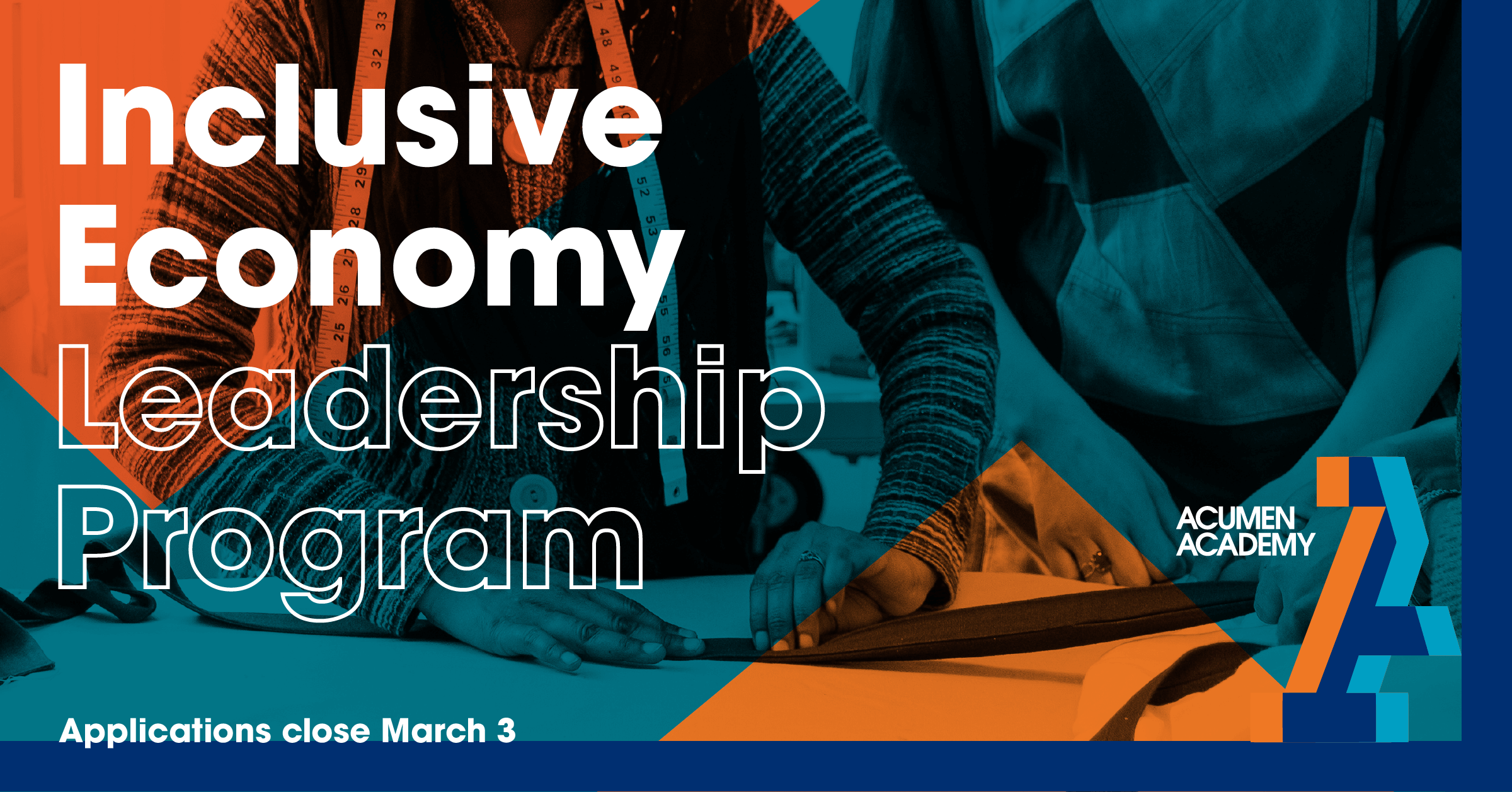 Acumen Academy Inclusive Economy Leadership Program 2022 for Southeast Asia (fully-funded)
Deadline: March 3, 2022
Applications are open for the Inclusive Economy Leadership Program 2022, a program for social entrepreneurs, nonprofit leaders, corporate intrapreneurs and public sector leaders in Southeast Asia. The Inclusive Economy Leadership Program (Southeast Asia) is a 10-week leadership accelerator designed to equip you with the character and competence to address the complex challenges of poverty and economic inequality.
During these 10-weeks, you will take part in weekly virtual learning labs, virtual group discussions and work on individual assignments. The experience:
Runs over 10 weeks, fully virtual
Attend weekly virtual Learning Labs
Engage in weekly consultations with peers
Study curated readings that cultivate a richer understanding of your social change work
Learn frameworks for leading social change and for holding values in tension
Complete weekly assignments to practice your new learnings
Upon completing the 10-week program, participants are admitted to The Foundry, an invite-only community designed to accompany entrepreneurs and leaders from around the world by connecting them with the social capital (resources and relationships) to amplify their work in building a just, inclusive and sustainable world.
The program runs from May until July 2022. Group virtual synchronous sessions are held every Thursday beginning 5 May until 7 July and there will be a closing session on 8 July.
Benefits
Foundry members have exclusive access to:
Events to learn and connect with fellow foundry members
Professional development opportunities that may include pro-bono consulting services and professional leadership coaching
Experts within the Acumen Ecosystem for mentorship or advisory sessions
Referrals to affiliated leadership programs and platforms
Access to funding / grants offered ad hoc by other organisations or through referrals within the Acumen network
This program is offered for free thanks to the support of partners at Acumen.
Eligibility
Leaders who have committed at least 4 years to tackling poverty or inequality.
Must be based in Southeast Asia.
To be eligible for this program, you should:
Currently live in one of the following SEA countries: Indonesia, Philippines, Vietnam, Singapore, Thailand, Myanmar, Cambodia, Laos, Timor-Leste or Brunei
Demonstrate a long term commitment to tackling issues related to poverty and economic inequality including more than 4 years of work
experience in the sector
Be in a position of leadership where you work, meaning you have the capacity to influence change
Demonstrate self-awareness and the ability to challenge yourself to grow as a leader
Live in a place with telephone and internet coverage so that you can actively participate in an online learning environment
Have the ability to read and write texts of medium complexity in English and basic handling of social platforms (e.g. Whatsapp)
Note: There are no specific academic requirements. Some participants have no formal education, others have degrees from global institutions
Note: There is neither a minimum age requirement, nor a maximum age cut off
Selection Criteria
They are looking for participants who:
are eager to reflect on and grow their leadership capabilities
are excited about learning with and from peers
are working to build a more just, inclusive, sustainable world
Application
They will review applications on a rolling basis and invite finalists for a 45-minute video interview. From there, the final cohort will be announced and formed.
For more information, visit Acumen Academy.