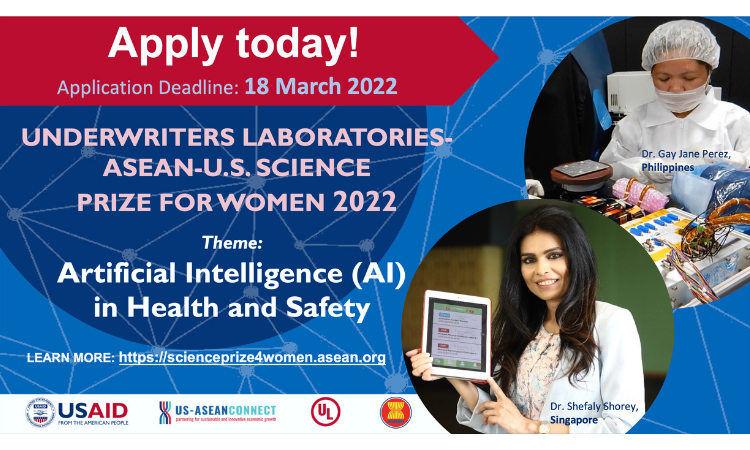 Underwriters Laboratories-ASEAN-U.S. Science Prize for Women 2022 (Up to $12,500)
Deadline: March 18, 2022
Are you a female scientist focusing on Artificial Intelligence in the ASEAN region? Apply now for the Underwriters Laboratories-ASEAN-U.S. Science Prize for Women 2022.
The 2022 Prize will provide promising, ASEAN-national, Mid-career and Senior female scientists with recognition awards from ASEAN and the United States government and Underwriters Laboratories for their academic and professional achievements.
The Prize will emphasize the role of female scientists who have used their work to improve the society in sustainable ways and have acted as role models for other women learning, working in, and pursuing careers in science, technology, engineering and math (STEM). This year, the Prize focuses on the theme of Artificial Intelligence (AI) in Health and Safety.
Award
Along with recognition for their achievements, the winners are eligible to receive a cash award of $12,500 each for both the Senior Scientist and the Mid-career Scientist categories.
Additionally, the runner-up finalists in each category will receive an honorable mention and $5,000.
Eligibility
Open to a female professional working in applied science;
Citizen of an ASEAN Member State (AMS) include: Brunei Darussalam, Cambodia, Indonesia, Lao PDR, Malaysia, Myanmar, Philippines, Singapore, Thailand, and Vietnam;
Holder a PhD or equivalent doctoral degree. Applicant who is candidate for, or in process of pursuing a PhD or doctoral degree are not eligible;
To qualify for the Mid-career Scientist category, the applicant must be 45 years or below on the closing date of the application period;
To qualify for the Senior Scientist category, the applicant must be aged 46 or older on the closing date of the application period.
Application
In order to be considered for the Prize, regardless of the category, applicants should submit the following:
A completed application form (mandatory fields must be filled out to be eligible for the Prize).
A Curriculum Vitae (CV)
A letter of recommendation submitted by an academic or professional contact.
A letter of support submitted by a female mentee or other women who have been impacted by the applicant.
Documents 1 and 2 are to be submitted online here. The application form can be downloaded from that website. There is no preferred form for the CV. Documents 3 and 4 are to be emailed directly to [email protected] by the referees with file name and subject line: Letter of Recommendation for [candidate's name and country of origin].
All four documents (application form, CV and two letter of recommendations) must be received by the Prize administrators before the application submission deadline for an application to be considered.
Documents to download:
For more information, visit Science Prize for Women.