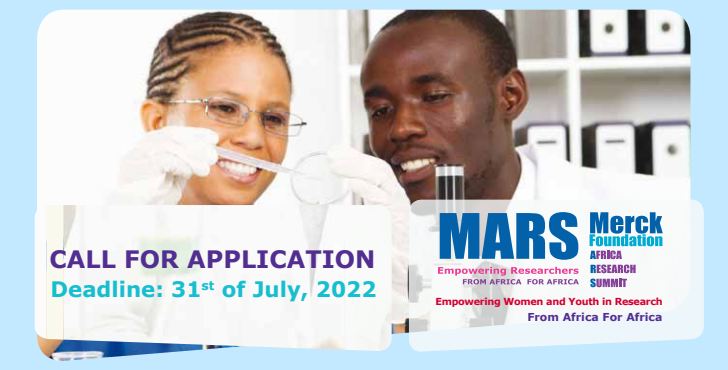 Merck Foundation Africa Research Summit – MARS 2022
Deadline: July 31, 2022
Applications for Merck Foundation Africa Research  Summit – MARS 2022 are now open with an aim to contribute to building research capacity in the African research community, with special focus on "The Role of Scientific Research in responding to Cancer and Vaccines Development – Two emerging challenges in Africa".
Merck Foundation Africa Research Summit – MARS 2022 will be held in Dubai with the aim to empower women and Youth in Research. MARS 2022 will have scientific support from African Union Scientific, Technical and Research Commission (AU-STRC), Infectious Diseases Institute, College of Health Sciences, Makerere University, Kenya Medical Research Institute (KEMRI) Graduate School, Advanced Center for Treatment, Research and Education in  Cancer (ACTREC), India and Merck Foundation.
On other note the organizing committee will present the "Best Young, African Researcher Award" and the "Best African Woman Researcher Award" to recognize the outstanding contribution of African Female Scientists with the aim to promote women in research and advance their contribution to STEM (Science, Technology, Engineering and Mathematics).
The annual Summit – MARS will open a discussion with Ministries of Health, Education, Information, Science and Technology and Gender from across Africa to define policies with the aim to empower women and youth in STEM and to address the vital role of research in the improvement and sustainable development of population's health with specific emphasis on how to translate knowledge into action – the 'know-do gap' – to improve health And make an impact on society.
Benefits
All Abstracts will be peer reviewed and 15 winners will be eligible for a sponsorship to attend MARS Summit.
Best three Abstracts will be eligible for Research Awards.
Further, Research Awards will be also dedicated for Best African Women Researchers.
Eligibility
Abstracts are invited from final year African Phd students and young investigators involved in research related to either of the following topics:

Cancer (specially in women)
Vaccines Development

All should be primarily based at African Research Institutes and Universities, although collaboration within Africa as well as outside is encouraged.
Application
The deadline for submission is July 31, 2022. All applications must be submitted by this deadline.
For more information, visit Merck Foundation.