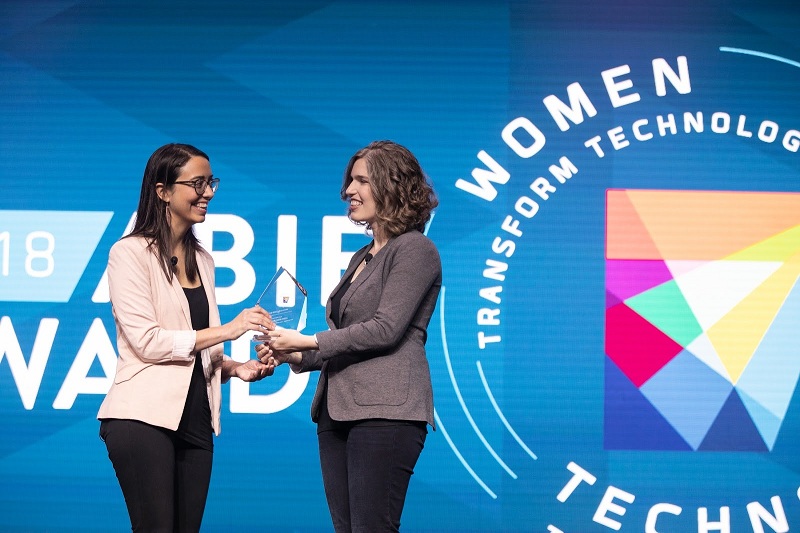 Call for Nominations: Abie Award 2022 for Women Technologists
Deadline: February 28, 2022
Nominations are open for the Abie Award 2022. At AnitaB.org, they celebrate and highlight the success of women and non-binary technologists and those who support women in tech.
The Abie (pronounced AB-ee) Awards honor these distinguished leaders, whose achievements and life stories demonstrate that all of us have the power to improve our world, individually and collectively.
Categories
Technical Leadership: The Technical Leadership Abie Award is the most prestigious award and celebrates a woman or non-binary technologist who led or developed a product, process, or innovation that made a notable impact on business or society.
Student of Vision: The Student of Vision Abie Award honors young women and non-binary technologists dedicated to creating a future where the people who imagine and build technology mirror the people and societies for which they build. Undergraduate or graduate students may self-nominate for this award. Presented at vGHC 21 and GHC 22.
Change Agent: Representation of women in technology is a global issue. The Change Agent Abie Award honors an outstanding international woman or non-binary technologist (non-U.S. resident with an emphasis on developing countries) who created or expanded opportunities for girls and women in technology. Presented at GHC 22.
Emerging Leader: Denice Denton was the first female dean of an engineering school at a major U.S. research university. In honor of her memory, they present this award to a junior, non-tenured faculty member for high-quality research and significant impact on diversity. Presented at GHC 2022.
Technology Entrepreneurship: As creating women-led startups is challenging, they celebrate the achievements of those who triumph despite the odds. They give this award to a builder of a technology venture. She transforms markets by implementing, developing, or promoting technology, creative processes, or new business models. Presented at GHC 22.
Prize
The honor the Abie Award winners each year at Grace Hopper Celebration (GHC). Each winner receives a cash prize (ranging from $15,000 – $50,000) and, an opportunity to speak at GHC.
Eligibility
You can nominate someone from your own company for an Abie Award.
You do not have to currently work with an individual to nominate that person for an Abie Award. Nominators should be able to provide information on the nominee's body of work but do not have to have the same employer. They encourage Nominators to nominate mentors, mentees, industry peers, etc.
All Abie Awards are currently for individuals. They do not present awards to groups at this time. Individuals can be nominated for an award and informally act as a representative for the group if selected as the Abie Award Winner.
Nominators can submit multiple nominations for the same award, as well as submit nominations to more than one award. However, they encourage submitting thorough nominations over multiple nominations (quality over quantity).
Nominees must be 18 years of age or older by the start of the annual Grace Hopper Celebration that the award they are applying for will be presented at. To be eligible for the 2022 Abie Awards, nominees must turn 18 years old no later than September 20, 2022.
AnitaB.org welcomes and encourages submissions from outside of the United States for all awards.
Nominee must speak English fluently enough to deliver an acceptance speech, and all nomination forms must be submitted in English. They do provide speaker coach support for all of the Abie Award Winners to assist with public speaking as needed.
Nomination
Click here to submit a nomination
For more information, visit Abie Award.