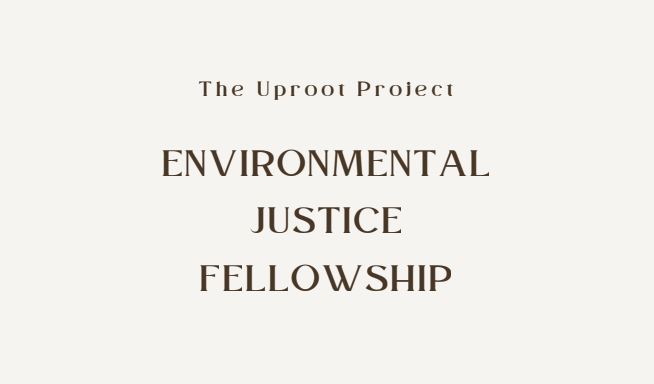 Uproot Project Environmental Justice Fellowship 2022 for Journalists in the U.S. (up to $2,000)
Deadline: March 15, 2022
Applications are open for the Uproot Project Environmental Justice Fellowship 2022. With the Uproot Project's Environmental Justice Fellowship, they want to bring the two together — to help underrepresented journalists shed light on undercovered topics.
This new fellowship will offer funding to seven journalists to pursue reporting projects over the course of a year. Fellows' projects should focus on stories related to environmental justice — highlighting how the climate crisis and key environmental issues of our time are inextricably linked with other forms of inequity. These are the kinds of stories that have often been left out of the narrative in mainstream environmental journalism, and the ones that The Uproot Project is dedicated to uplifting.
Funding
Fellows will receive up to $2,000 to cover travel and other reporting expenses, and will also receive support from Uproot to place their stories with a media outlet, if requested.
The funding for this fellowship should directly support fellows' reporting. Such costs may include:
Travel expenses
Translation fees
Records access
Data analysis
Data visualization
Eligibility
Open to journalists of color who are members of The Uproot Project. (If you're a journalist of color who hasn't joined Uproot yet, you can fill out the membership survey and sign up here. It's free to join!)
Applicants must also be authorized to work in the U.S. and have a U.S. bank account and address. U.S. citizenship is not required.
Applicants must be working journalists; those working in public relations, lobbying or communications are not eligible for this fellowship. Freelance journalists are welcome, and encouraged, to apply.
A demonstrated history of covering the environment will strengthen your application.
Application
You will be asked to include a proposed budget for your project; please attach this in the form of a spreadsheet.
A letter of support is optional but encouraged. References should email these letters to [email protected] with the applicant's name in the subject line.
For more information, visit Environmental Justice Fellowship.