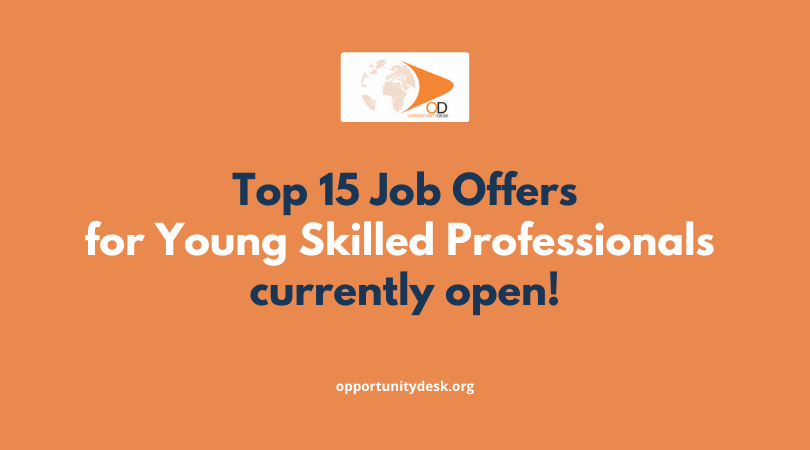 15 Jobs & Internships for Students and Young Professionals currently open – April 25, 2022
Hey! How is your job search going? OD, your one-stop shop for global opportunities is always here to provide assistance every step of the way.
Check out these available jobs and internships!
1. Internet Society Admin and Governance Specialist
The Admin and Governance Specialist will help to enable the Internet Society's Community Engagement team to successfully engage its global community.
Click here for details | Deadline: Ongoing
2. Internet Society Global Events Manager
The Global Events Manager is expected to facilitate fresh ideas and concepts for our marquee events, including developing executable plans, coordinating all logistics to bring the event to life, managing project timelines, directing vendors, and collaborating with internal and external teams to ensure best-in-class event production.
Click here for details | Deadline: Ongoing
3. Internet Society Senior Policy and Advocacy Expert
This position offers an exciting opportunity to join a global team of Internet experts and help drive campaigns that promote and defend the Internet both in Washington, DC and across the globe. You'll bring Internet policy expertise, advocacy experience, leadership skills, and a strong network of contacts to advance our projects and help shape the future work of the Internet Society.
Click here for details | Deadline: Ongoing
4. EU-LAC Foundation Internship
In four cycles per year, the EU-LAC Foundation offers three-month internships to university students who are citizens of the European Union (EU), Latin America and the Caribbean (LAC) at its head office in Hamburg, Germany, giving them the opportunity to strengthen their knowledge of the bi-regional EU-LAC Strategic Partnership and to gain first-hand experience in the work environment of a dynamic international organisation.
Click here for details | Deadline: June 17
5. Pollicy is hiring a Director of Research
The Director of Research will oversee and supervise our numerous research projects with expert knowledge of a broad variety of qualitative and quantitative research methodologies.
Click here for details | Deadline: May 31
6. Media Council of Kenya Industrial Placement Program for Kenyans
The program aims is to attract, nurture, develop and retain the most talented people and support them to expand their skills and capabilities, ensuring that Media Council of Kenya is the destination of choice for the brightest talents in the industry.
Click here for details | Deadline: Ongoing
7. Bank of America Winter Analyst Internship
The Winter Internship program offers you the chance to discover the world of banking at Merrill Lynch. As an intern analyst you will have the opportunity to gain in depth exposure to a line of business and gain an invaluable insight into the organisation and its culture.
Click here for details | Deadline: Ongoing
8. Administrative Assistant at Aspen Institute
As Administrative Assistant, you will partner with the Associate Director, Postsecondary Success for Parents; Director, Leadership Programs; Director, 2Gen Practice; and Senior Director of Communications at Ascend ("Directors") to support the logistical, operational, and communication details for their diverse portfolios.
Click here for details | Deadline: Ongoing
9. Apply to be an Aspen Institute Program Assistant
The Program Assistant provides administrative, events, operational, and communications support to Aspen Tech Policy Hub programs. The Program Assistant will work closely with the small Hub team and will benefit from close mentorship from Hub and Aspen Digital leadership.
Click here for details | Deadline: Ongoing
10. Aspen Institute is hiring a Climate Policy Advisor
The Climate Policy Advisor will primarily be responsible for mentoring fellows on climate policy and climate tech projects as part of the inaugural Aspen Climate Cohort. This includes providing guidance on project substance and editing project products such as policy memos and app demos.
Click here for details | Deadline: Ongoing
11. Apply to become Aspen Institute's Membership and Events Coordinator
ANDE is looking for a Membership and Events Coordinator for the Washington, DC office. This role will be based in the Washington, DC office, with hybrid and partially remote work options possible.
Click here for details | Deadline: Ongoing
12. Aspen Institute Operations Intern, East and Southeast Asia
The Aspen Network of Development Entrepreneurs (ANDE) is looking for an Operations Intern, based in their Bangkok, Thailand office. This is a part-time, term-limited position.
Click here for details | Deadline: Ongoing
13. Living Seas Volunteer Position
This a fantastic opportunity for you to carry out marine research and become involved in environmental education and awareness raising work. You'll learn about the marine species of Cardigan Bay and gain experience in field work, processing data, environmental education, community engagement and more!
Click here for details | Deadline: Ongoing
14. Sea Turtle Conservation – Volunteer Position
Are you passionate about the environment, looking to gain experience in the field or simply want to contribute to a worthwhile cause during your holidays? Turtle Foundation are recruiting for the up-coming nesting season in Boa Vista, Cape Verde.
Click here for details | Deadline: August 31
15. Volunteer Education/Activities Assistant at WWT Martin Mere
You will be directly involved in shaping the younger visitors' experiences through your warm welcome, positive interactions, and through the information that you provide.
Click here for details | Deadline: Ongoing
For more job opportunities, visit Our Hot Jobs Page.