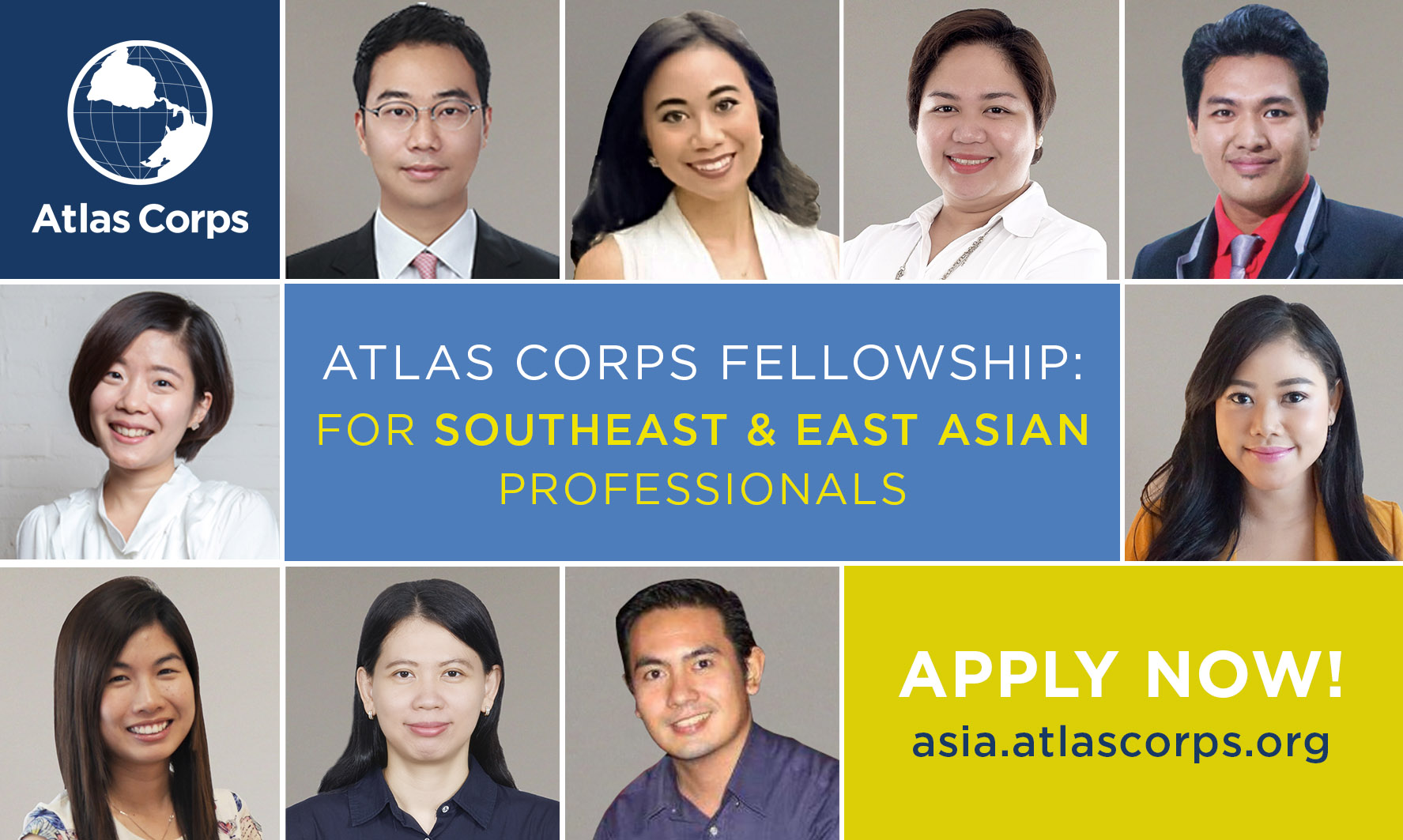 Atlas Corps Fellowship 2022 for Southeast and East Asian Professionals
Deadline: May 31, 2022
Applications are open for the Atlas Corps Fellowship 2022 for Southeast and East Asian Professionals. The Atlas Corps Fellowship for Southeast and East Asian Professionals, a special initiative within the Atlas Corps Fellowship, is looking to recruit emerging leaders from Southeast Asia and East Asia for 12-month US-based and 14-month Blended Fellowships in the United States.
Atlas Corps Fellows serve full-time with mission-driven organizations to learn best practices, build organizational capacity, and return home to create a network of global leaders. This initiative will support the efforts of U.S.-based organizations to bring an international perspective from the region to their programming and operations.
Specifically, Atlas Corps seeks professionals interested in using their skills in the following areas:
Communications / Digital Marketing: Create engaging content, manage social media, and develop marketing campaigns to increase visibility and engagement;
Partnership Building / Business Development: Mobilize networks, manage partnerships, and develop business proposals to amplify impact;
Monitoring & Evaluation / Data Analysis: Build frameworks, collect data, and provide analysis, recommendations, and trainings to drive program design decision-making;
Operations / Human Resources: Support, develop and improve operational frameworks, procedures, and processes;
Project / Program Management: Manage project or program: build frameworks, goals, and key performance indicators for programs and projects, design new activities, develop needed communications or metrics, manage and track progress & results, and lead programming and participant engagement.
Benefits
Fellows will participate in the Atlas Corps Global Leadership Lab professional development series to develop their leadership skills and engage in networking opportunities with Atlas Corps Fellows from around the world.
There is also the opportunity to participate in group cultural activities such as a D.C. Monuments Tour, sporting events, U.S. holiday celebrations, and more.
In addition to building connections with peers during the Fellowship, alumni will also join the Atlas Corps network of 1,200+ rising leaders from 112+ countries.
Eligibility
Candidates for this fellowship must have a college degree;
Be highly proficient in English;
Be no older than 35;
Be committed to applying their experience in their home country or region after the program;
Candidates should also have two years of experience in the skill areas mentioned above and have primary citizenship from one of the following countries: Brunei, Cambodia, China, Indonesia, Japan, Laos, Malaysia, Papua New Guinea, Philippines, Singapore, South Korea, Taiwan, Thailand, or Vietnam.
Application
Applicants to the Atlas Corps Fellowship for Southeast and East Asian Professionals should go through the same online application process as other applicants for the Atlas Corps Fellowship. Please Mark Skill 1 on the application with one of the skills listed above.
For more information, visit Atlas Corps.