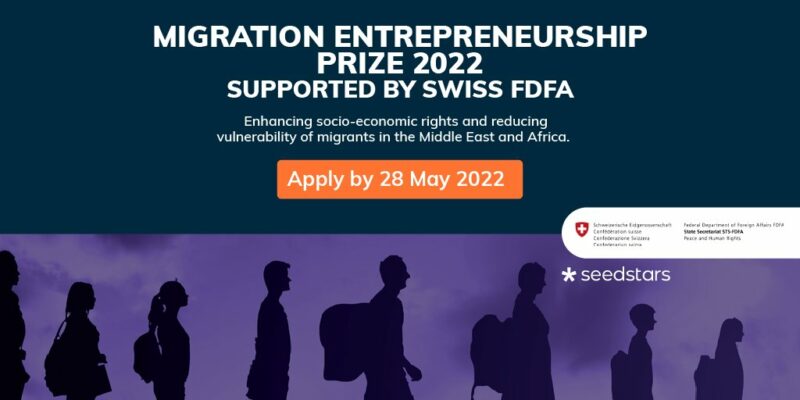 Seedstars Migration Entrepreneurship Prize 2022
Deadline: May 28, 2022
Applications for the Seedstars Migration Entrepreneurship Prize 2022 are now open. With the aim to enhance the economic inclusion and improve the livelihoods of migrants, Swiss FDFA's Peace and Human Rights Division and Seedstars are looking for startups from the Middle East and Africa that address migration issues.
The Migration Entrepreneurship Prize is a program focused on the identification and technical support to socially-driven businesses on a mission to enhance the economic inclusion of migrants in the Middle East and Africa. Supporting startups that harness the positive benefits of migration and reduce the vulnerability of migrants by improving their livelihoods, contributing to their social and economic rights, and thereby reducing the pressure for irregular dangerous migration routes.
Benefits
Join the Seedstars Investment Readiness Program.
Be part of the Online Seedstars World Competition activities including educational program and access to Seedstars network.
Increased visibility and web presence via various media and social media channels.
Eligibility
They will be selecting 15 startups from the Middle East and Africa and 5 startups from Tunisia to join this program.
Middle East & Africa
Startups tackling the positive benefits of migration and reducing the vulnerability of migrants;
Social-driven businesses alleviating the pressure on populations along migration routes;
Entrepreneurs proposing products/services targeting migrants directly.
Tunisia 
Tunisia Migrants living in Tunisia – migrapreneurs who launch a business that targets migrants;
Tunisians who have lived abroad and returned to Tunisia launching their business idea;
Any innovative business having activities in Tunisia or being incorporated in Tunisia that has the potential of positively harnessing the benefits of migration.
Application
To join this program, kindly fill in the application form before May 28, 2022.
For more information, visit Migration Entrepreneurship Prize.