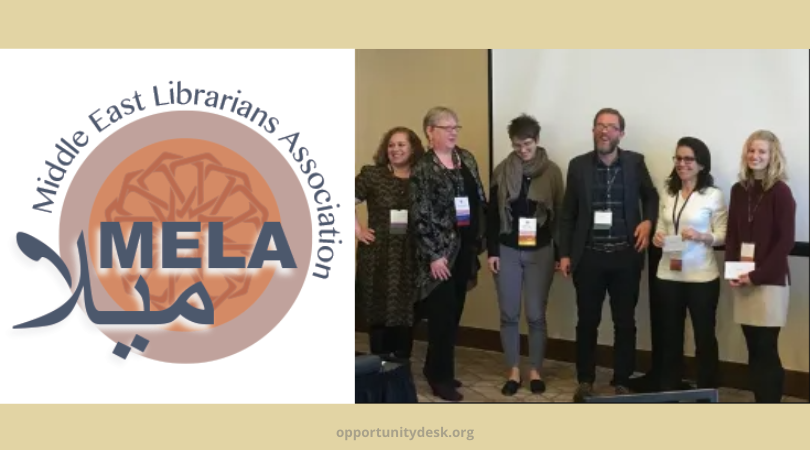 Call for Applications: George N. Atiyeh Prize 2022
Deadline: August 30, 2022
Applications are invited for the George N. Atiyeh Prize 2022. The George N. Atiyeh Award is an annual affair in hopes of recognizing aspiring Middle East subject specialist librarians.
The George Atiyeh Prize was founded by the Middle East Librarians Association in 1999 to honor George N. Atiyeh, retired Head of the Near East Section of the Library Congress, founding member of MELA and of the Middle East Microform Project, for his many contributions to Middle East librarianship and scholarship. Dr. Atiyeh is the first and only honorary member of MELA. The George Atiyeh Prize offers financial aid to attend the annual meetings of MELA and of the Middle East Studies Association of North America (MESA).
Awardees receive a cash award in addition to their registration fees for both the MELA and MESA annual conferences. Awardees must agree to attend both the MELA and MESA conferences in their entirety, to allow their names and photographs to be used in any publicity by MELA or other organizations contacted by MELA, and to write a report on their conference experience, to be published in MELA Notes.
Award
Qualified applicants, will be awarded in the amount of $250; in addition, any registration fees for MELA and MESA will also be paid by MELA.
Eligibility
Students who are enrolled in library and information science in American Library Association (ALA) Accredited Universities, as well as Middle Eastern universities, are eligible to apply for this award.
Application
Applications will include the following:
Name, E-mail address, Institution name, Location, Name of the program and Links to website/ Social media (optional).
Current resume or C.V.
Personal Statement of maximum 800 words that includes the following:

Description of your academic, work related or other background in librarianship.
Statement of your career goals, including a description of your current course of study.
Statement of why you wish to attend these meetings (All documents should be in PDF format).
Applications should be submitted through email to the George Atiyeh Prize Committee via [email protected]
For more information, visit George N. Atiyeh Prize.