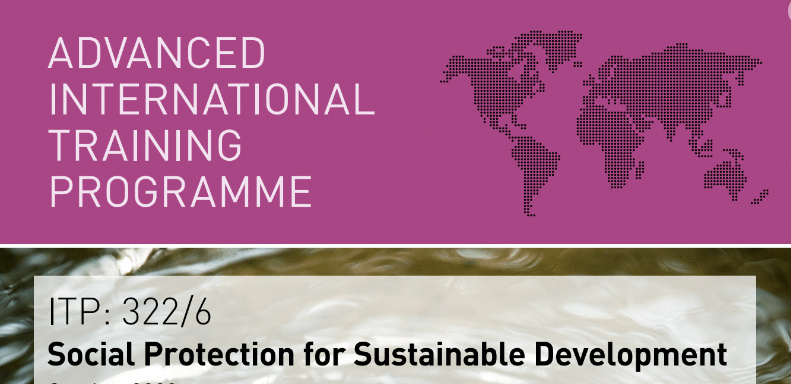 International Training Programme 2022/2023 – Social Protection for Sustainable Development (Funded)
Deadline: August 15, 2022
Applications are open for the International Training Programme 2022 – Social Protection for Sustainable Development. The aim and overall objective of the International Training Programme (ITP) is a long-term and sustainable contribution to a more inclusive and equal society by improving the function of the social protection systems that tackle poverty, vulnerability, inequality (both gender and economic) and exclusion while strengthening the delivery of inclusive social development, productive employment and equitable economic growth.
The programme has the objective to increase knowledge and provide participants with opportunities to implement development projects that they have prioritized together with their organisations. The methodology used is based on the assumption that the participants' organisations wish to carry out changes and are willing to invest their own efforts and resources to achieve these changes.
Programme Content
The programme will combine theory with practice to provide participants with the knowledge to strengthen a sustainable national social protection system. This programme adopts the Results-Based Management (RBM) model as the monitoring strategy that focuses on performance and the achievements of results. RBM shifts the focus from activities and outputs to outcomes and impacts. The core modules of the ITP will include training in seven main areas:
Rights-based and life cycle frameworks for social protection systems,
 The design and implementation of social protection systems to ensure social inclusion,
Strengthening developmental impacts by integrating inter-sectoral initiatives to multiply social protection impacts and support the SDGs ("Social Protection Plus"), with a particular focus on decent and productive employment,
Enabling social protection to promote gender equality,
Financing and co-financing social protection reforms, expansion and integration, and
Monitoring and evaluating social protection systems to enable evidence-based change.
Social protection responses to the COVID-19 pandemic and lessons from the global crisis.
Cost
The Swedish International Development Cooperation Agency (Sida) will cover all costs such as tuition fee, board and lodging (single room including breakfast and all other meals), roundtrip economy flight tickets between the international airport in the participant's home country and Sweden and the location of the regional seminars, some activities and local transportation within the programme.
Participants must pay for all visa fees, personal expenses and travel to/from the international airport in their home countries. The programme does not pay per diem to participants. Neither the organisers nor Sida will finance the participant's change project.
Eligibility
Participants can apply from ministries, government agencies and departments and non-governmental organisations (NGOs);
The following countries are invited: Cambodia, Mozambique, Rwanda, Sudan and Zimbabwe.
The training programme will be organised and conducted in English. Participants are expected to make both oral and written presentations. Candidates from countries where English is not an official language should do a language test with an official body in their home country. Proficiency in English shall be certified on the Application form.
Application
To participate in the selection process, you must submit an English language certificate, a medical statement, and a letter of nomination. 
For more information, visit SIDA.