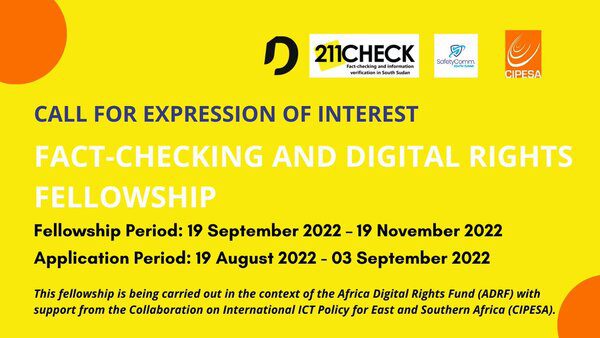 Fact-checking and Digital Rights Fellowship 2022 for South Sudan
Deadline: September 3, 2022
Applications are open for the Fact-checking and Digital Rights Fellowship 2022 for South Sudan. #defyhatenow South Sudan, with support from the Collaboration on International ICT Policy for East and Southern Africa (CIPESA) in the context of the Africa Digital Rights Fund (ADRF), is calling for applications for a Fact-checking and Digital Rights Fellowship, to be offered to successful candidates for a period of two months.
The fellows will be hosted by 211 Check and SafetyComm South Sudan to provide them with exposure to fact-checking, and digital rights issues. The fellows will also write fact-check articles and stories on digital rights issues under the organization's guidance. This fellowship is a way to transfer knowledge and develop leaders who are committed and working toward civic freedoms, digital rights and a healthy information ecosystem in South Sudan.
Roles and Responsibilities
Media monitoring, reporting, and incident response: Fellows will undertake extensive social media monitoring to spot dis/misinformation, hate speech, and cyber threats and respond in a prescribed format. Fellows will also be involved in investigating dis/misinformation campaigns, scams, and hoaxes, and where necessary, draft and publish reports.
Research and output: The Fellows will be required to carry out high-impact research and write briefs, reports, responses, blogs, articles, and other documents around fact-checking and digital rights issues.
Building a national network of fact-checkers and digital rights stakeholders: The Fellows will convene stakeholders working on fact-checking and digital rights issues to enable an exchange of ideas and facilitate learning from each other.
Programme Components
Fact-checking and digital rights training.
Mentorship and collaboration with #defyhatenow South Sudan partners.
Fellowship may include attending in-person and virtual relevant events related to Fact-checking and Digital Rights issues.
A monthly stipend during the fellowship period.
Technical and content support for the fellows in the event that they want to conduct campaigns or produce content about fact-checking and digital rights issues during the fellowship.
Stipend
A monthly, non-negotiable stipend of USD $200 will be provided to a full-time fellow. They will be offering four fellowships covering full-time fellows only.
Eligibility
Applicants must be located in Juba, South Sudan at the time of the start of the fellowship. 
Must have received fact-checking and digital literacy training from #defyhatenow South Sudan.
Must demonstrate a strong interest in and commitment to the development of fact-checking and digital rights in South Sudan and beyond.
Have excellent writing, drafting and oral advocacy skills.
Must have a notable social media presence across several platforms.
Must be interested to do advocacy and engagement work on fact-checking and digital rights within their school, university, or organisation.
Preference will be given to the selection of full-time fellows. However, the selection committee may consider part-time fellows.
Application
Interested parties may apply on or before Sunday, September 3, 2022, at 04:30 Juba time (GMT +2). For further inquiries about this opportunity, reach out to #defyhatenow South Sudan Communications Officer at [email protected]
For more information, visit Fact-Checking Fellowship.