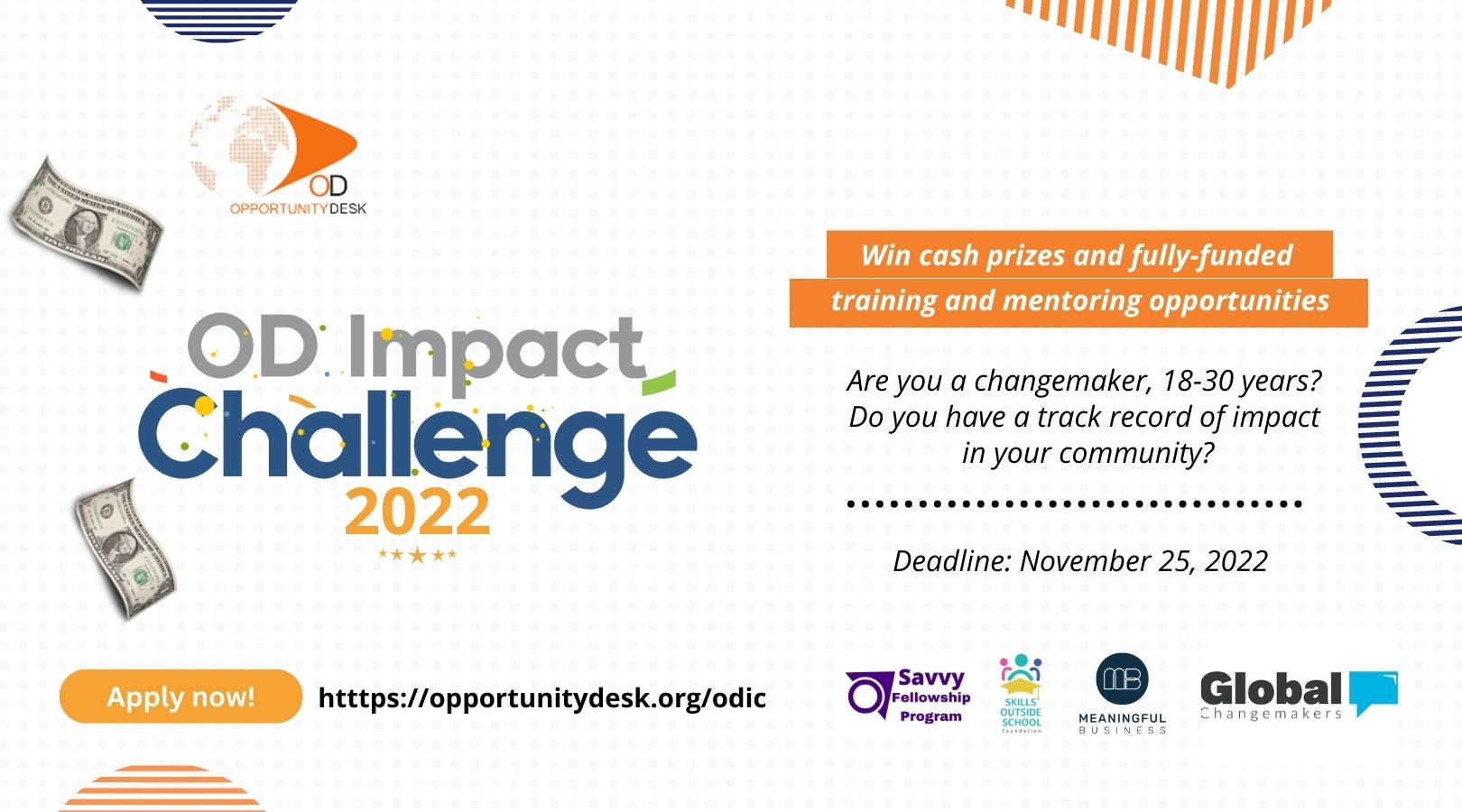 OD Impact Challenge 2022 for Young Changemakers (Win cash prizes and fully-funded learning opportunities)
Deadline: November 25, 2022
Calling changemakers across the world! Apply for the 2022 Opportunity Desk Impact Challenge (ODIC). The OD Impact Challenge is a global competition that seeks to recognize and support efforts of young changemakers working to bring positive change to their communities, while projecting and highlighting the impact Opportunity Desk is making in the lives of people worldwide. 
This year's challenge prize is organized in partnership with Global Changemakers, Savvy Fellows, Meaningful Business and Skill Outside School Foundation. Thanks to our partners, the 2022 edition comes with lots of exciting benefits including up to $1000 in cash prizes and fully-funded spots on high valued membership networks, changemaker courses and personalized mentorship.
How It Works
The competition is simple, it challenges participants to answer three main questions in 60 seconds:
What are you doing to bring positive change to your community? Tell us the problem you are solving and how it is making a difference.
How is OD making an impact in your life?
How will the prizes help you if you win?
About Opportunity Desk
OD is an online platform that bridges the opportunity gap for people across the world, by creating open access to information and educative resources. These opportunities help to facilitate young people's efforts in exchanging ideas and preparing themselves for the future. They include: scholarships, conferences, fellowships, awards, jobs, internships, and grants targeted towards individuals and organizations worldwide.
Since inception in 2012, Opportunity Desk has reached 186,200 people from over 180 countries around the world. Our website currently attracts more than 500,000 views monthly with about 100,000 people connected and engaged with us on social media.
Prizes and Benefits
Top 12 Finalists will receive:
Certificate of recognition
Fully-funded access to Global Changemakers Project Management course with the opportunity to compete for Global Changemakers' Seed Grants of up $2500
Exclusive media feature as OD Young Person of the Month
Automatic admission into the Savvy program
Personalised mentoring with the CEOs of Opportunity Desk and Savvy Fellows
In addition to the above, the top 3 winners will receive:
Cash prize of $500 for the first place winner
Cash prize of $300 for the second place winner
Cash prize of $200 for the third place winner
Honorary membership in the Meaningful Business Program and lifelong access to the network.
Media feature across OD partner networks
Top 30 Under 30
Exclusive Listing as OD Impact Challenge 30 under 30 Changemakers
Automatic admission into the Savvy program
Certificate of recognition
Eligibility
This global competition is open to changemakers around the world who are actively solving a problem and improving the lives of others in their community.
Participants between 18 and 30 years from any nationality are welcomed to apply.
Participants should be active Opportunity Desk users:- You are a fan or follower on our social media pages:- Twitter, Instagram, LinkedIn, Facebook and Telegram and you must be subscribed to our Newsletter.
You are actively engaged in your community and you have at least 1 year track record of impact either as an individual, employee or entrepreneur.
Terms and Conditions
There is no entry fee
Video submissions must be original, unpublished work by the contestant and cannot infringe upon any copyright laws. The contestant must be the sole author of all entries and hold full rights to them. Videos that have won awards in other competitions are not eligible to enter;
By entering the contest, video submitters are deemed to have agreed to the use of their videos in OD promotional material;
The organizers reserve the right to remove and disqualify submitted videos which may cause offence or may be deemed unsuitable or inappropriate for this contest;
The contestant must have received permission from the subject(s) used in the video. Videos that violate the rights of those depicted or put people at risk will not be considered by the judges;
Opportunity Desk can take no responsibility for entries that are incorrectly or incompletely submitted.
Judging Criteria
The jury, made up of social change leaders and impact drivers will carefully select finalists and winners based on the following criteria:
Innovation
Project Impact
Sustainability
How to Enter the Competition
Step 1: Make a one-minute video telling us:

a) your name and country;
b) what you are doing to bring positive change to your community;
c) how OD is making an impact in your life.
You don't need a sophisticated camera to do this. You can use your smartphone in landscape mode. Just ensure we can see and hear you clearly. Be creative too.
Step 2: Post your video to your social media page: Facebook, Twitter, Instagram, LinkedIn etc. using the hashtags: #ODImpactChallenge #ODIC2022.
Step 3: Complete the online application here before November 25, 2022.
Step 4: Prepare for voting. Top 12 finalists will be contacted and provided with a link to the voting page.
Ready? Simply prepare your video, then apply: bit.ly/ODIC2022apply.
For more information, visit OD Impact Challenge.