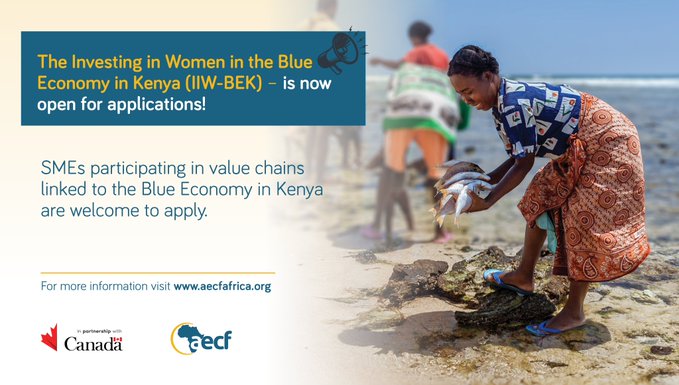 AECF Investing in Women in the Blue Economy in Kenya Programme 2023 (up to 400,000)
Deadline: January 20, 2023
Applications are open for the AECF Investing in Women in the Blue Economy in Kenya Programme 2023. Global Affairs Canada (GAC) has dedicated a total of CAD $9.7m through the Africa Enterprise Challenge Fund (AECF) to catalyze the Blue Economy sector in the Republic of Kenya.
The project seeks to contribute to economic empowerment of women enterprises, their suppliers, and producers along key supply chains where women are discriminated against in the Blue Economy in Kenya.
Focus Sectors
Fisheries
Agriculture/Forestry
Productive use of renewable energy
Waste management
Biodiversity protection (marine and lake biodiversity)
Tourism-provision of products and services to the tourism sector
Supply of inputs and services(e.g., access to finance, climate-smart technologies – aquatic blue food storage and transportation, market information etc)
Social enterprises that reduce the burden of care for women and young women (e.g., daycare child services)
Funding
Total grant funds requested from AECF must be between US$ 50,000 and US$ 400,000.
Eligibility
Applicants showing a willingness to participate in the competition for grant funding must abide by the following eligibility criteria:
Be legally registered as a for profit private sector enterprise with activities aligned to the focus sectors and with direct linkages to small and micro enterprises in the geographical scope. In the case of social enterprise, the firm must demonstrate the ability to commercialise products and services intended to improve well-being. The businesses must be physically established in Kenya at the time of award and investment by AECF.
Enterprises with a minimum of 51% female ownership with a dominant representation of women employees, suppliers of raw materials, and distributors of goods will have a distinct advantage.
The company should produce audited accounts for at least two (2) years (these could be from the parent company, if recently established as a branch or subsidiary in Kenya).
The window targets enterprises which have an annual turnover of US$500,000 to US$2.5 million. Promising enterprises that do not meet the minimum turnover threshold will be considered on a case by case basis. 
Be able to show commitment to match AECF's funding based on the ratios stated in the matching contributions arrangement highlighted in the matching fund's section above. 
Request the grant funding within the stipulated time and funding range provided.
Be compliant with the fundamental laws and regulations of Kenya, including tax, regulatory, health and safety, and human resource compliance laws. 
Comply with the applicable international human rights, labour standards, and environmental management laws as expressed in the International Bill of Human Rights and the core labour standards established through the International Labour Organizations. 
Demonstrate commitment to gender equality and the empowerment of women and young women while conducting business. 
MUST NOT be involved in any act of corruption. AECF requires that the applicant (including its staff, contractors, and suppliers) not be involved in offering third parties, or seeking, accepting, or being promised by third parties, for themselves or any other party any gift, remuneration, compensation, or benefit of any kind whatsoever, which could be interpreted as an illegal or corrupt practice. 
MUST NOT be involved in any act of terrorism or support terrorists' activities. The business will comply with all applicable anti-terrorist financing and asset control laws, regulations, rules, and executive orders. The business should have a duty of care to ensure they are not dealing with suppliers on debarment, suspension, exclusion and anti-terrorism on its suppliers, consultants and staff. 
Allow AECF regular due diligence and monitoring visits.
Application
The application window will close at 11:59 PM (EAT) on January 20, 2023.
For more information, visit AECF.